This Guy Really, Really Wants to Work at Google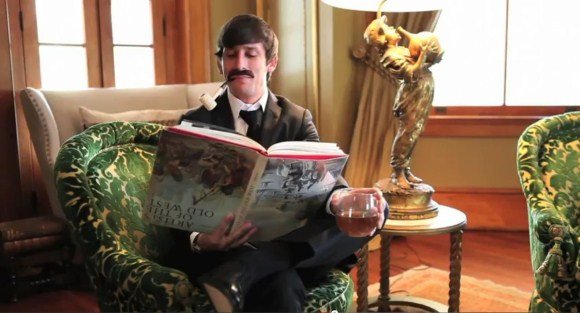 (Matthew Epstein's video application for Google has become a viral success)
Internet, meet Matthew Epstein. Mr. Epstein really wants to work at Google. In fact, he wants to work at Google SO badly that he just recorded a completely ridiculous promotional video, which has since gone viral after landing in Tech Crunch. In the video, Epstein, wearing a fake handlebar mustache and holding a glass of scotch while sitting on a "14th century Parisien loveseat," expounds upon his technical and, well, not-so-technical, experience in product marketing.
In addition to the video, Epstein has also created a website named googlepleasehire.me – which is punny, since "me" is also Mr. Epstein's initials.
Considering the fact that Epstein's applying for a job that requires someone who can elevate a product and make it a viral success and he just elevated his own application and made it a viral success, I think Google should hire this guy, right this very instant.
Not only can Epstein market the hell out of his mustache, but he also knows how to read upside-down, do a single push-up and get a pedicure that nicely compliments his skin tone. Oh, Matthew. You are clearly meant for marketing.