 Toshiba Thrive Review Roundup – "Portly" in Both Senses of the Word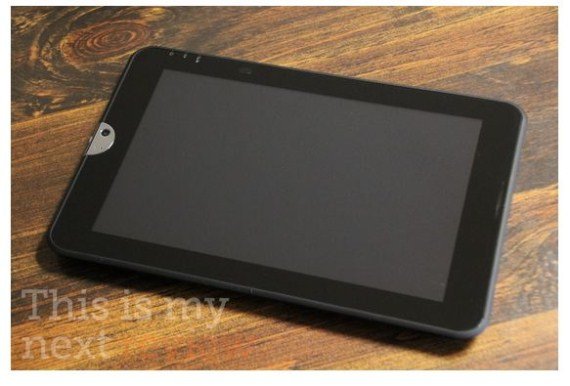 So, the reviews for the new Toshiba Thrive tablet are starting to pile up, and it sounds like the tablet's chunky design is a deal breaker for some, although it offers a range of ports that you can't find on most tablets. Let's dive right in and take a look at what this tablet has to offer.
Engadget
Engadget reviewer Dana Wollman appreciated the fact that the Thrive has full-sized USB and HDMI ports, an SD card slot, and a removable battery – "all features you'd sooner find on a laptop." It is also one of the first tablets to ship with Android 3.1, the latest tablet-friendly version of Android bringing "extra goodies" like resizable widgets, a new host mode, and Google's new movies app. It also has a removable battery, though it doesn't sound so easy to remove. The Thrive is also priced comeptitively at $420, around $20 less than its competitiors. The bad news? The Thrive is a fat tablet, nearly double the thickness of Samsung's Galaxy Tab 10.1 and "a touch" heavier than the first-generation iPad. It looks and feels "cheap." Battery "craps out pretty quickly," at 6 hours and 25 minutes, "trailing far behind the iPad 2's nearly ten-an-a-half hour run." And there's a lot of bloatware pre-loaded, though some apps, like Quickoffice, are welcome. Overall, "the Thrive does a better job making up for its heft than other tabs" but likely won't entice users "who don't give a hoot about the USB port and SD card slot."
This is My Next
This is My Next reviewer Sean Hollister also describes the look and feel of the tablet as "cheap." "Rough plastic seams, flimsy port covers and squishy, hard-to-press buttons and switches are what you'll be dealing with," writes Hollister.The tablet's size is "as bulky as they come." Display quality is "moderately bright and readable from any angle," but actual screen images are "rather dull." The app's firmware was certainly not welcome by this author, most of which he deemed "not worth your time." The Thrive also seems to have a bug and will randomy fail to wake up after going to sleep. "We're very surprised that Toshiba would let Thrive ship without more rigorous testing," writes Hollister. Overall, the reviewer notes he'd rather "wait for a more smartly designed tablet to integrate those ports before we lay our money on the table."
CNET
CNET reviewer Eric Franklin describes the look of the Toshiba Thrive thusly: "while most other tablets show efforts to emulate Apple's thin, light and minimalist iPad 2 design, Toshiba hurls the Thrive right into the soft, supple face of the notion that tablets should be designed this way." The removable battery is a nice touch, but actually removing the back to replace the battery, "almost feels like you're breaking something." Franklin wasn't so put-off by the Thrive's firmware, describing the Start Place news app as "well-designed." Furthermore, Franklin thinks that the Thrive's bulky design might be worth it for some customers. "[The Thrive] spends its real estate well...there's definite method to Toshiba's madness here." Overall, Hollister thinks the tablet offers "a great Honeycomb tablet experience at a very approachable price."