[Travel Log] Android in Russia: Cheap Service, Expensive Phones On my frequent travels across the world, I always try to keep an eye out for Android related stuff do get a feel of what it's like to own an Android phone in a different country. Given the fact that the Android OS can be used by any phone manufacturer, there are drastically different phones and plans being offered in every country. In the US, for example, you'll find CDMA versions of popular Android phones under different names in Verizon and Sprint stores. In some countries it is a common practice among providers to lock Android phones whereas in others this is banned by law.
That's why on my recent trip to Russia, I decided to pop into a couple of mobile stores and see what kind of Android phones they had to offer.
Compared to my last visit to Russia in 2010, the number of Android phones on the street has dramatically increased. It's hard to believe that barely a year ago iPhones were virtually the only smartphones on the Russian market (mostly unofficially with Russians buying unlocked iPhones through relatives and friends living abroad).
Today Android phones can easily be spotted in the hands of average Russians riding the Moscow and St.Petersburg subway. Android phones may have become increasingly popular, but the reality of owning a smartphone in Russia is somewhat different. Russia's leading cell phone providers Beeline, MTS and Megafon do not really have a tradition of selling phones with contracts. That's why it's up to the consumer to shell out a big sum of money to purchase the device they want.
On the bright side, there are are no SIM locks and pay-as-you-go data service is insanely cheap - around $0.03 per megabyte. Unlimited data plans cost just $14 a month and come without a contract! Now that's what I call a real unlimited plan and every T-Mobile and AT&T user should be dying of envy right now.
It's not all rosy for Russian smartphones users. The flip side of having great mobile internet service is having to pay higher prices for Android smartphones.
Here's a snapshot of a Samsung Galaxy S II that I took at the Russian equivalent of Best Buy: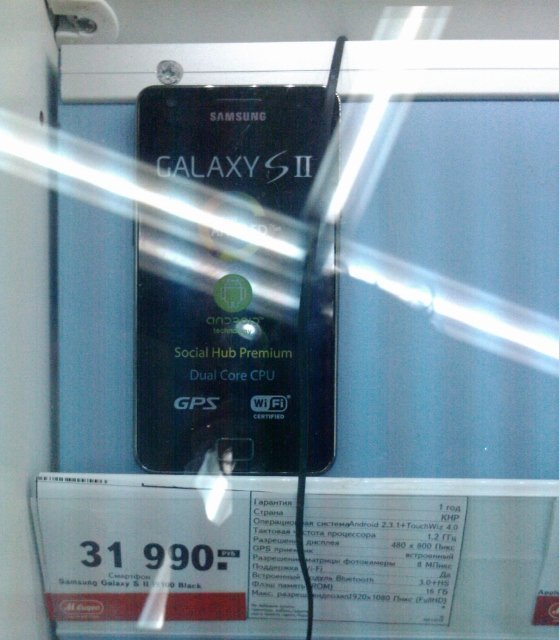 As this photo shows, the Galaxy S II costs a whopping 31,990 rubles or $1,150! The same unlocked phone goes for around $700 and less in the US. Absolutely CRAZY!