[Update] First Confirmed Galaxy Nexus Photo And Spec Sheet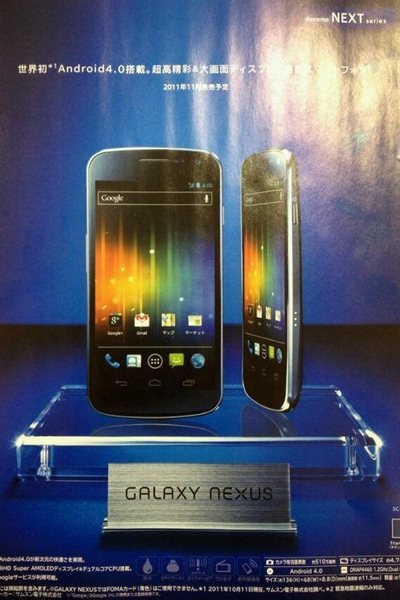 The Galaxy Nexus is here early (at least a photo). Ahead of tonights big Galaxy Prime / Ice Cream Sandwich announcement a new, apparently official photo has slipped out of the Land of the Rising Sun showing the Japanese version of Google's next flagship in all her glory. While there have been more then a couple fakes recently, this appears to be the real thing.
Don't forget AndroidPITs live Blogging event starting tonight at the following times!
Oct 18 4PM HAST
Oct 18 7PM PDT
Oct 18 8PM MDT
Oct 18 9PM CDT
Oct 18 10PM EDT
Oct 19 2AM GMT
Oct 19 3AM BST
Oct 19 4AM CEST/IST
Oct 19 5AM EEST
Oct 19 6AM MSK
Oct 19 10AM HKT
Oct 19 11AM JST
AndroidPIT's Fabien has already landed in Hong Kong and is getting ready for tonight's big unveiling. This is Android's biggest event of the year. Don't miss it!
Update 1:
According to several European Blogs the Technical details of the Galaxy Nexus are as follows:
Modell: GT-I9250, GT-I9250T, GT-I9250M, SC-04D, SCH-I515
136.0 mm × 68.0 mm × 8.8 mm - 11.5 mm an der dicksten Stelle
Weight: 135.0 g
OS: Google Android 4.0 Ice Cream Sandwich
Processor: Texas Instruments Omap4460 CPU: ARM Cortex-A9 MP Core SMP (Dual-Core) @ 1.2 GHz
Grafic: GPU Image Technologies PowerVR SGX 540
Communikation: (GT-I9250/GT-I9250M/GT-I9250M/SC-04D): W-CDMA, GSM phone (SCH-I515): LTE, CDMA2000 Packet (GT-I9250/GT-I9250M / GT-I9250M/SC -04D): HSPA, EDGE, GPRS (SCH-I515): LTE, EV-DO Rev.
Display: AMOLED HD: 4.65" a resolution of 720 x 1280 Pixel
Camera: 5 Megapixel CMOS with LED flash and Video Recording 1080pHD (1920 * 1080)
Front Camera: 1.3 Megapixel CMOS
GPS
NFC
Micro USB 2.0
Bluetooth 3.0 + HS
Wireless LAN: IEEE 802.11 a / b / g / n (2.4 GHz Dual-Band 5.xGHz)
Tethering
Wi-Fi Direct
RAM: 1GB
ROM: 16/32GB
Battery: 1750mAh
Breaking Nexus Prime News: