[Updated with Video] Galaxy Nexus "Volume Ghost" Bug Threatens Global Release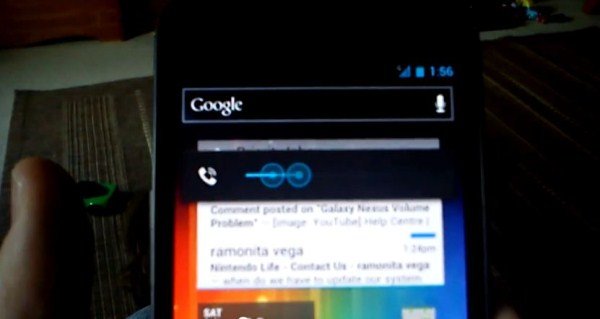 It's called the Self-Aware Volume Ghost, and it's threatening to halt the release of the Galaxy Nexus on Vodafone, one of the UK's largest carriers..
What happens is this: sometimes, when users are talking on the phone, the Galaxy Nexus mysteriously decreases the volume – as if by ghostly intervention – without reason or warning.
"This morning the volume went down on its own. I actually saw the volume bar appear and decrease, as if I was pushing down on the rocker. It happened twice," posted user Jonnyguitar to xda-developers forum. "Both times I was hammering the phone so perhaps it's related to RAM? The first time I was moving six 400mb avi files from one folder to another using a file manager app, and listening to MP3s at the same time."
Other users have posted similar issues.
There doesn't appear to be a fix for the issue – at least not yet. Nor does anyone know whether the issue relates to hardware of software. Other issues – such as a lack of support for Flash and inability to install certain apps that have yet to approve themselves for Android Ice Cream Sandwich – are to be expected with a new release of Android.
UPDATE: Here's video of the bizarre bug:
Have you experienced any issues with your Galaxy Nexus? Let us know below...