Verizon Axes Unlimited Data, Introduces Tiered Plans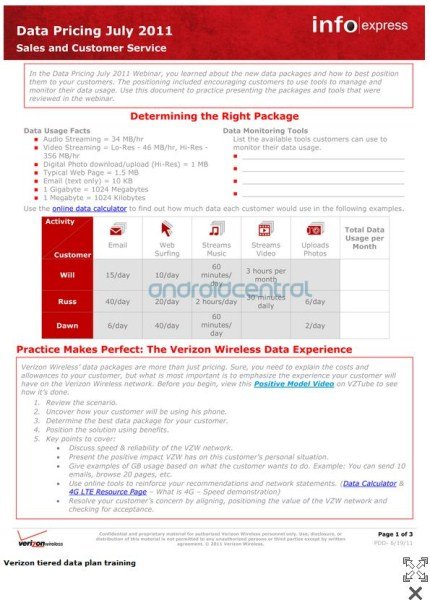 Next time you walk into a Verizon store and ask for a phone with a data plan, expect the salesperson to ask you about your internet habits. That's because Verizon, starting on July 7th, will be offering tiered instead of unlimited data plans, and they're training their employees to get better at targeting customers like you with plans that fit your needs.
Sound reasonable? Well, it is -- though the prices might not be. Rumor has it that Verizon's new plan will charge $30 for 2GB, $50 for 5GB and 80$ for 10GB. Android Central was able to get its hands on the new employee training manual, which offers a peek at how the company is gearing its employees to initiate this change. Answer to most questions? Use more WiFi - which makes sense, even if it's not the answer you were looking for.
We also see confirmation in this packet that unlimited is dead. My guess is that many will be none too happy about that. Click the link below to take a look at all the Verizon training docments.