 [Video]Android Makes Everything Easier– Galaxy S2 Solves Rubix Cube In Record Time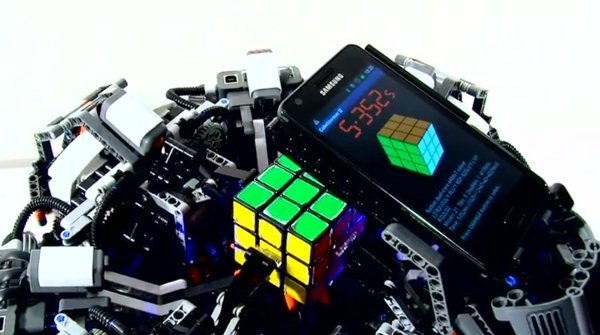 Android phones can do just about everything. From GPS navigation to instant translation, from remembering your girlfriends birthday to helping you cram for a test, there is truly an Android and an app for all of life's little problems. But with modern smartphones packing so much technology, it only seems natural to see just how far you can push the performance envelope. That's where today's entry into "completely pointless but really cool" Android innovations comes in: Mike Dobson and David Gilday, two Android aficionado's with a lot of time and a lot of Legos on their hands decided there was no better way to use the muscle of the Samsung Galaxy S2 then using it to solve my childhood bane, the Rubix cube.
If you were a child of the 80's, I'm sure you remember these multicolored puzzles that somehow became synonymous with intelligence. While solving it doesn't mean you're a genius (Yes, Hollywood, I'm looking at you. Stop putting this cliche in films) programing an app to do it and hacking together a robotic undercarriage out of legos which solves the greatest thing to come of of Hungary in the last 40 years in world-record time, is a pretty good indicator that you got it going on the brain department.
For your viewing pleasure, The Cubestormer 2 powered by the Galaxy S2:

If you want to see the Cubestormer 2 in action, you can see a live demo at the ARM TechCon 2011, October 25-27 in Santa Clara.
Other Game News: