 Video Compares Camera Quality Between iPad 2, Motorola Xoom, and Acer Iconia A500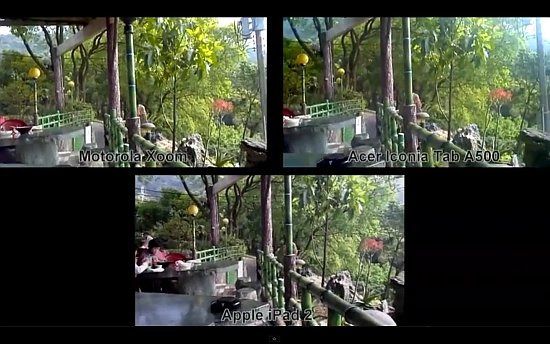 Photo courtesy of Netbook News
A new Youtube handily compares the video-recording quality on three different tablet PCs: the enormously popular iPad 2, the slow-selling Motorola Xoom and the just released Acer Iconia Tab A500. The reviewer took the video while on vacation in some beautiful distant land (perhaps somewhere in Indonesia?) with the kind of foliage that just begs for a high quality camera.
Smartly, the cameraman recorded everything you might want to record: the distant ambient noise of birds chirping, the sound of him laughing and the sound of his girlfriend clicking her chopsticks together...so you could see how the tabelets capture sound both far away and close up to their microphones.
We think there's a pretty obvious winner here but why don't you be the judge?