 [Video] GMail Unveils Impressive Update: New Search Features, Backgrounds and Templates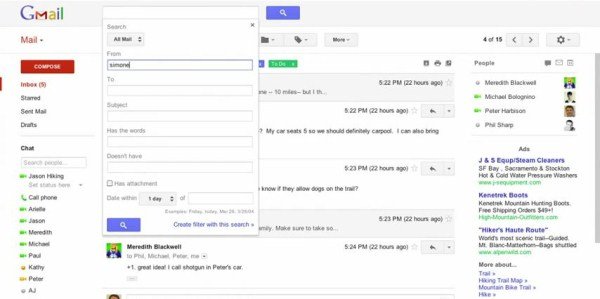 A fairly extensive GMail update is launching soon. While the update probably won't be blowing anyone's brains, it does have a few really nice and needed features we think you'll like. Here are a few of the most notable new features:
GMail now automatically adapts to fit your screen size – so if you want to minimize your browser, you can still see your entire inbox.
You can choose different viewing templates like "comfortable," cozy," and "compact" which spaces out the emails according to your preferences.
You can hide the tabs on the side that feature labels and chat.
There are a bunch of new themes (ie pictures) you can set as the background to your email text
Searching function has been completely revamped: you can now search via sender, recipient, subject, keyword and date. This will be an incredibly useful feature for those who store their emails indefinitely but have a hard time searching for exactly the email they need.
Overall, we're most excited about the new search functions, especially since we use our GMail as a go-to database for everything we've ever sent to anyone ever. Nice work, Google!
UPDATE: Our friend Michael Dunstheimer over at AndroidPIT.de has posted a few screenshots and video of the new GMail in action: