 [Video] Galaxy Tab 10.1 - The Sexiest Tablet Since the iPad 2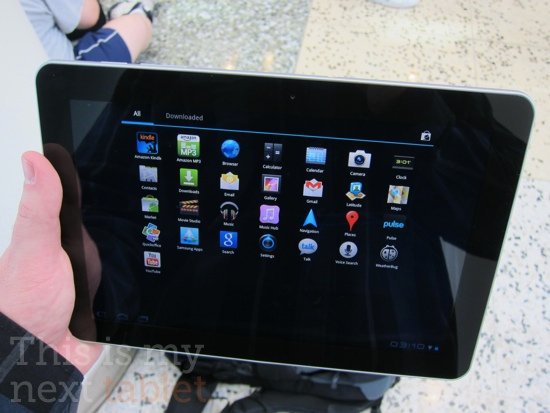 The Galaxy Tab 10.1 --perhaps the first worthy opponent to the iPad 2 in terms of form, weight and feel -- was passed out to 5,000 cheering attendees at the Google I/O conference, and it's pretty easy to understand their enthusiasm.
The tablet itself is an Nvidia Tegra 2, dual-core gadget running a pure Google version of Honeycomb -- which kind of sucks, but fine for anyone looking for a sleek, sexy device to root.
About those looks...the 10.1 has a classy textured plastic back, which is easily grippable, and is super-duper thin at just .44 inches. It's also got a slick 10.1 inch screen surrounded by a 0.75-inch black bezel and silver aluminum outline at its edge. Weight-wise, the 10.1 is lighter than the iPad2, weighing 1.24 pounds compared to the iPad 2's 1.32 pounds.
In other words, it's one sexy mofo. Peep the video for a better understanding: