[Video] Google+ Android App Now Supports Multi-Person Video Chat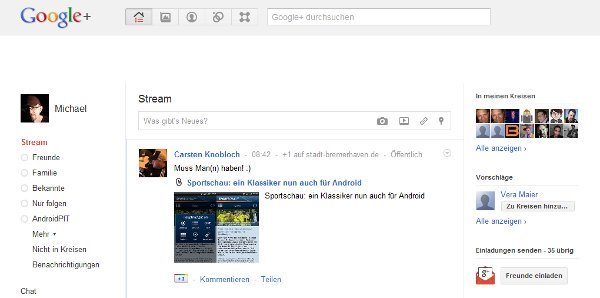 Google+ is now officially open to all, even though it was previously not such a big problem to join the new network by invitation. Whether this will boost Google+'s numbers, I'm not sure, but there's no doubt Google's hoping the broad masses will now pour in.
I personally appreciate Google+'s rival Facebook – especially since it's undergone its own Google+ makeover and now comes with a winder range of sharing options – and I'm not sure Google+ will ever be able to approach Facebook's massive popularity. That said, I'm not sure this is absolutely necessary. Ultimately, Google+ caters to a different clinetele (especially to those who arbitrarily hate Facebook).
That said, Google+'s Android app is pretty fantastic, especially the feature that saves your photos to a cloud for easy sharing. The app just got a full makeover by the Google team, bringing a bunch of changes including...
Update: Bug fixes in mobile hangouts
Join hangouts from the mobile app
Set profile photo
Huddle is now Messenger
Send photos in Messenger
Reliability improvements in Messenger
Long press on posts in stream to +1, share and mute
Improved video playback support
Improved public search for people
Granular push notification settings
Move app to your SD card
Improved +mention support
Here's video of the new multi-person video chat feature in action: