[Video] Intel Atom Processor Will Snack on Gingerbread in 2012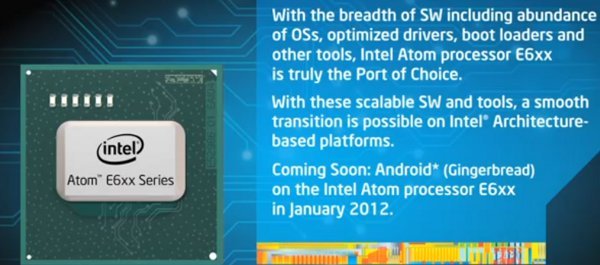 Intel's Atom Processors (E6XX) will officially support Android 2.3 starting in 2012. Intel recently made the announcement but gave no specifics regarding how they want to implement the new Android-friendly support. Could this mean netbooks booting both Atom and Android? We'll have to wait till next year to find out.
According to PC Magazine, the 'E' in the chip name stands for embedded and that the Atom line is destined to take Android to cars, vending machines and other System-on-a-chip devices. While the concept of an eventual car/Android handset sync up gets me excited, it does seem like Intel is a little behind the times in terms of Android distributions. Android 2.3 isn't really as state of the art as it once was but despite this, I'm still curious to see what Intel and Android are cooking up for next year.