 [Video] It's HERE! CyanogenMOD Alpha Build For HP TouchPad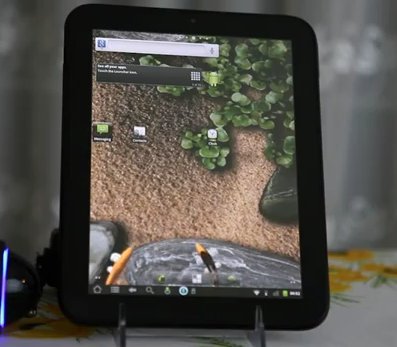 The Android community has been waiting for it for months and finally our favorite mobile OS is making an official appearance on HP's defunkt line of TouchPad tablets. If you were lucky enough to pick up one of the $100 tablet PCs, congratulations! You can now be the proud owner of the cheapest Android tablet on the market.
Of course, before you get too excited, remember this is an Alpha build. It's not ready for a full implementation. While the alpha title says it all – "LOWER YOUR EXPECTATIONS" EDITION – it's still Android... on a TouchPad... Regarding the development state of the first CyanogenMod build for TouchPad, the developers had this to say:

Understand, this version is definitely an alpha, with all that implies. Those expecting perfection will be sorely disappointed. Many things won't work as well as they will eventually. But you wanted it ASAP, and hopefully, this version should be somewhat useable and gives a sense of progress.
Supported features in this build include:
Booting into Android
ADB commands via ADB
Power, back/home and volume button layout
Touchscreen support (Multi-touch, 10 fingers)
GPU Acceleration (2D Acceleration doesn't work, but not a release blocker)
Dual core processing
Bluetooth
Sound
Accelerometer
Power Management
Battery Reporting
Camera(only video chat, no recording or snapshots)
Vibration
Backlight
LED
Multiboot (via moboot)
ClockworkMod Recovery
Fast Switch Boot
Fake SD card Mount
Light Sensor(need to check "Enable Light Decrease" in cyanogenmod settings->display->automatic backlight
Accessing webOS files from Android and vice versa
Touchstone Support
Softkeys
Wifi
And much, much more!

If you want to get a sense of how the build runs on HP's tablet, you can see it up and running in the following demo video