[Video] Mini-Review of the First ($100) Ice Cream Sandwich Tablet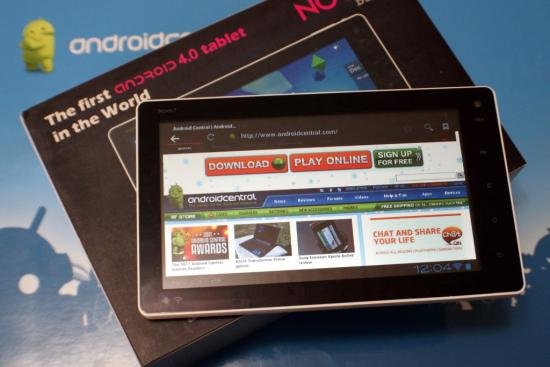 Today, Android Central has released a mini-review of the Novo 7– the first Android Ice Cream Sandwich tablet, and the first Android Ice Cream anything that costs just $100. When we first heard about this tablet, we were mighty impressed by the idea of a cheap tablet running the latest Android OS. But can you really count on a budget tablet to give you a full ICS experience? Read on to find out...
According to Android Central, the Novo 7 feels like a typical Chinese tablet, which is definitely not a compliment. Cheap plastic on the outside and not a particularly great processor on the inside is perhaps what one would expect from a tablet in this price range. The performance, though – if one can judge from the homescreens – does not appear to be all that bad.
The biggest catch is probably the fact that the software installed is what might be most diplomatically called a "Beta" version. Thus, many apps from Android Market and Amazon App Store cannot be installed. The manufacturers admit openly that the software is still in great need of improvement and promise an update, but with no given time frame:
Dear Sir,
Thank you very much for your order of the NOVO7. The NOVO7 Ice Cream Sandwich is the first tablet with Android 4.0. At present, the NOVO 7 we delivered to you is the first lot, the software needs of Which quietly improved. Later on, we'll update the software and you can download from our official website.
Until the software fix is in, Android Central won't be recommending this tablet to, well, anyone. The Android blog even used the word "useless" to describe the tablet. I'm a bit suprised, especially since Andy Rubin tweeted about the device, lending it an official aire. Seems like the Novo 7 in fact has a long way to go...