[Video Review] Jambox by Jawbone: Your New Favorite Android Accessory?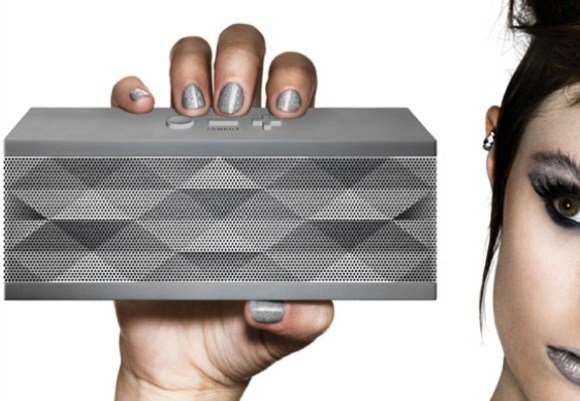 When it comes to external speakers for your Android, you just can't beat the look and feel of the Jambox by Jawbone. It's certainly quite the conversation starter, too, with a modern metalic design that fits perfectly in a purse or pocket. But how does it sound? Read on to hear our review.
Jawbone is a Bluetooth-enabled speaker for your Android, computer or iPod. It comes with a cord that hooks up to a headphone jack, but is also pairable with any Bluetooth-enabled device. The first thing you'll notice on this device is the absence of buttons. There's just a small LED-lit power switch on the side and a round button and plus and minus bottons on top.
When you first turn on the device, it makes a bass-tastic noise, rousing from sleep with a big rumble.To connect the speaker to your Android, simply enable Bluetooth on your device, then press the round button on the right hand side of the Jambox. It'll make a sound like a satellite as it scans nearby devices. Connecting took us just a few seconds.
Next, you can simply adjust the volume on your device and the change will be registered on your Jambox. But be careful. We registered a lot of distorition when attempting to play music at high volumes. Scrolling through our playlists, we found the speaker to be quite capable of re-creating the acoustics of jazz and R&B but not quite up to the challenge of rock at a moderate volume. The sound didn't exactly knock our socks off – or fill the entire room – but it was certainly richer and more bass-heavy than any built-in computer speaker.
The Jawbone is also set-up to work as a speakerphone for your phone, but the mic quality was reported as weak and echo-y by our calling partner.
Overall, while we appreciated the look and feel of the Jawbone, we can't quite bring ourselves to recommend this device. Part of this is due to the price. The Jawbone is priced at $160, placing it far above most external speakers of comparable quality. At $160 the Jawbone's sound should have blown us away. At best, it just made us smile – and stroke the device. It really is pretty.