 [Video] Slash Gear: Samsung Galaxy SII "Could Be the Best Android Smartphone on the Market Today."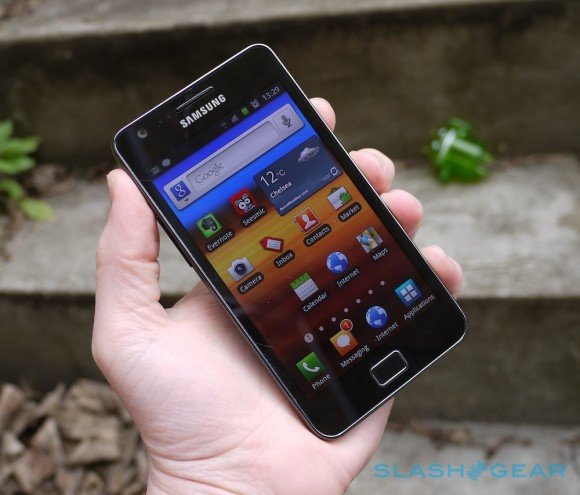 The "Galaxy S2 Overview" video from the guys over at Slashgear is unfortunately rather short -- but you still get an interesting look at Samsung's new 3.2 Dual Core, 1.2 GHz phone. In the written part of the review, it's clear that this phone is a winner. Excellent battery life, stunning display, great video quality, new zooming features...what's not to love?
Here are a few of the main points from the print part of the review:
Slash Gear lauds the phone's eye-catching display, which almost seems to hover on top of the screen and is viewable from any angle. Gorilla glass keeps it safe from cracks and the phone is actually even a bit slimmer than previous Galaxy models.

The reviewer wasn't such a big fan of TouchWiz, calling it an "acquired taste."

The zooming feature looks pretty cool; you can zoom in and out of webpages or images by toucing two fingers to the screen and tilting the whole thing back and forth.

Pre-installed apps were pretty great, with AllShare and Kies Are being the standouts. AllShare allows you to push content from your phone to your HDTV or pull content from a NAS or other device. Kies Aire, meanwhile, allows you to stream content from your computer.

Front-facing camera was better than decent, taking shots that looked very impressive and natural. Low-light shots, though, aren't quite as nice as they are with XPERIA Arc. Video can be recorded in an impressive 1080p Full HD but can only be editied in lower-level qualities.
The reviewers wrapped it up by saying Samsung "has upped not only its game but the benchmark for smartphones in general." Will be interesting to see how it competes with the Sensation...