[Video] "Sleek, Sexy and Ergonomic": It's the S1 and S2 Review Roundup!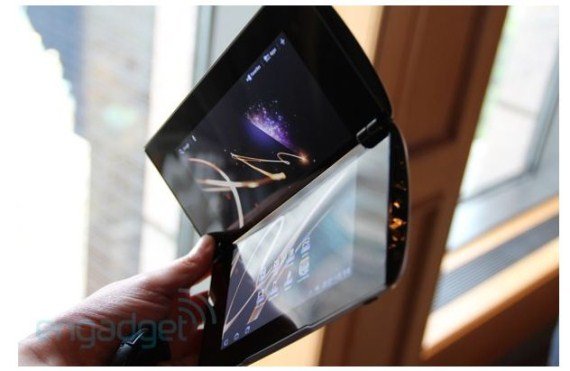 We've been teased for weeks about the look and feel of the new Sony S1 and S2 tablets and now initial reviews are starting to trickle in. Looks like the reviewers have unanimously fallen in love with the S1's folded newspaper design but have a few concerns about the S2's functionality. Read on to hear what folks are saying about these sexy new tablets.
Engadget
Engadget writes that the S1's rolled-up newspaper design lends it a more ergonmical feeling than most tablets. "It's an unexpected, wonderful thing," writes Dana Wollman. Viewing angles on both devices are "pretty good," and movie playback "looked smooth, too." On the other hand, the S2, with its unique foldable design, seems to have the same screen-continuity problem as the Kyocera Echo. "It doesn't look like Sony had any more success than Kyocera did with the Echo in minimizing the bezel separating the two panels," writes Wollman.
This is My Next
This is My Next lauded the screens on both devices, especially "how well they holds up to extreme viewing angles," writes Dieter Bohn.The S2 woos with a "slightly folded screen," although "you won't be able to run two different apps simultaneously, one on each screen, as there's a limitation they're waiting on Google to help out with." Both tablets are Playstation certified but the number of Playstation games developed for Android remains "painfully small." Overall, "neither the S1 nor the S2 come across as game changers," but both are "capable, light devices in fairly unique form factors."
CNET
CNET writer Donald Bell seems to be smitten by the design of both devices. He describes the S1 as "beautiful," and "the most comfortable Honeycomb tablet we've ever held." S2 is given the "most exotic" prize, but there are warnings about its novelty factor; "it takes a lot of wizardry to make the sum of two good screens greater than a single excellent one." Still, "Sony's tablets are the sexiest we've seen yet."

Check out a hands-on video from This is My Next below: