Virgin Talks Smack About T-Mobile in Their Newest Ad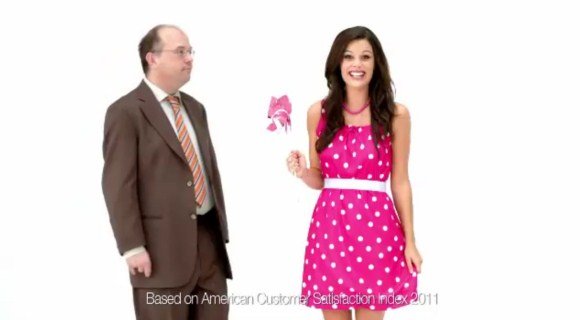 We all know the AT&T buyout of T-Mobile is going to raise carrier prices, reduce competition and just generally suck for the average cell phone user. Virgin Mobile seems to realize this as well, and has taken this opportunity to shoot some arrows at T-Mobile before their deal with AT&T is finalized.
In this commercial, Virgin goes after the younger customers who may have been lured by T-Mobile's youthful aura. The party, the ad argues, is with Virgin, where plans start at $35 with unlimited data on Androids. In this pot-shot ad, T-Mobile spokeswoman Carly pretends to be happy about being wed to an overweight nerdy guy representing AT&T ("I am contractually-obligated to enjoy this!" she says through gritted teeth as he grinds on her at a club).
Sure, Virgin doesn't have the best selection of Androids yet – as of now, they've got the Samsung Intercept, Motorola Triumph and LG Optimus V – but that doesn't mean they won't be able to build on this collection in the future.
Honestly, we're surprised that Virgin has yet to come up in any of these arguments about the AT&T buyout lessening competition. Here's a British carrier with piles of money to spend on ads, who could become a real (healthy) threat to the coming Verizon / AT&T duopoly. Here's hoping the carriers continue to fight for customer dollars by lowering the cost on data plans!