 WIMM Wearable Technology: The Android Smartwatch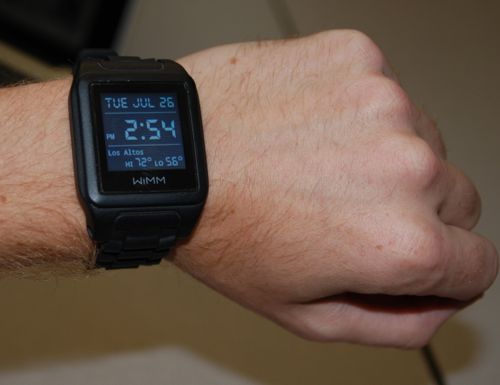 (Photo courtesy of BetaNews)
Don't you just love it when fashion meets smart technology? A really cool and innovative California-based company called WIMM has teamed up Foxconn to come up with a set of wearable Android devices with small screens designed for everyday use. The Wearable platform technology isn't just a piece of eyecandy, but rather a serious piece of technology that could take your Android experience to a whole different level.
WIMM have coined and developed the concept of the "first screen" i.e. the screen that we most often use in our daily lives. With smartphones, technology has become more and more portable and people spend less time at their computers. After all why sit at a computer desk all day when you can receive all your important emails on the go while enjoying life? For the time being, our Android devices act as our first screens, our first sources of information, constantly at our side. Packaging an Android into a tiny wristwatch, however, changes that entirely. Thankfully, no one is trying to squeeze everything Androids have to offer into a tiny one inch screen. These cute micro-sized Android watches function more like a virtual remote control rather than an individual device. The whole purpose of this technology is to be able to synch your watch with your phone, tablet and computer. The WIMM devices all come with a basic minimum: GPS, Bluetooth, Wi-Fi, accelorometer and 30G of storage.
So from your watch (or belt clip, pennant etc.) you can check the weather, look through your calendar, use the screen as a caller ID, preview text messages and much much more. The possibilities are nearly endless and could really revolutionize the way we interact with our gadgets. Instead of looking at your phone every couple of minutes, a short glance at your Android watch will suffice to keep you informed on missed calls, texts, news, weather and email.
One of the coolest things about the WIMM watch module is the touchscreen which can switch between active and passive modes. The screen automatically turns reflective (Kindle E-Paper style) when no apps are in use and kicks back in when you touch the screen. That's a great solution for extending the battery life of your Android "smartwatch". Speaking of battery power, the device can be charged by a magnetic charging pad and the watch should last you quite some time on one charge based on the claims of WIMM representatives.
So is this idea going to get any serious traction? Definitely! WIMM is opening up their own custom app store to developers in the coming weeks and are willing to share their technology with potential customers in the form of watchmakers and fashion designers. Just imagine: Swatch meets Android! I'm drooling already.