 Which Carrier Has the Best Coverage in Your Area? There's an Android App for That.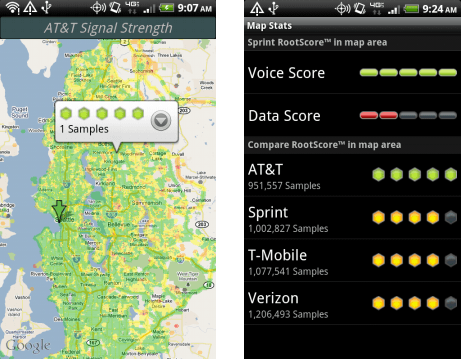 Good coverage at the nearby park with AT&T but even better coverage with Verizon. Outstanding coverage at the donut shop with Sprint but mediocre coverage at the health food store (as if you needed yet another excuse not to go). Using Rootmetrics, it's easy to see which carrier has the best coverage in the locations you frequent the most.
While predicting good cell phone coverage is not an exact science, RootmMetrics still doess a good job of providing a general picture of which areas are best covered by different networks.
The company uses crowdsourcing to test your phone's signal strength and upload and download speeds at any given time. It also goes a step further and compiles the voice and data strength of other RootMetrics users across carriers into a single coverage map of major urban centers in the U.S.
Till now, Rootmetrics was only available for the iPhone but now you can download it directly to your Android.
Have you used RootMetric before? Did you think it was accurate? Let us know!