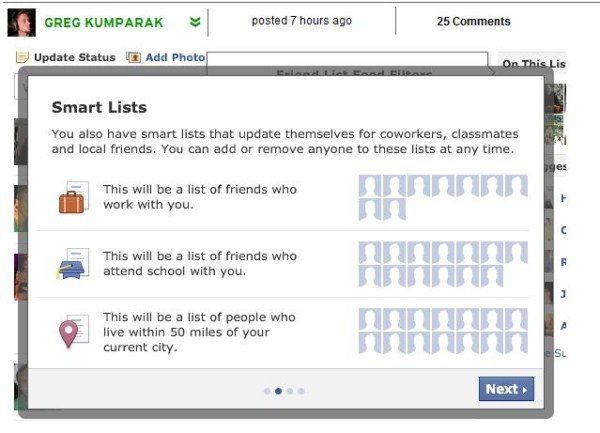 (Picture from TechCrunch.com)
So, you may have heard about this Google+ thingy. You know, the site that encourages you to divide your friends into groups, kind of like at an elementary school cafeteria? Well, Facebook seems to have been trying to think of ways they can compete with Google+'s circles feature and is now helping its users divide their friends, as well. Hooray for friend / acquaintance separation!
Facebook is rolling out something called "Smart Lists" on select user profiles – which, as you'd think, groups certain obvious groups of friends into lists created by Facebook. So far, it seems facebook is automatically grouping friends into three clusters:
Co-workers
School mates
People who live in your city
It's probably a good idea that the company is capitalizing on one of Google+'s most popular features but it does make Facebook look like it's playing catch-up. Oh, and in case you were wondering, Google+'s growth has slowed significantly since launch. Facebook, on the other hand, has seen revenue double in the first-half of this year. Soo maybe they don't need to worry so much about apeing this circles feature.
But they're rolling it out anyway.