 Why Twitter Didn't Need to Buy Tweetdeck

Twitter has bought Tweetdeck for $40 million. Why? The company was becoming anxious over the fact that the entire Twitter ecosystem was being monetized by clients other than Twitter.
But one question that's been floating around on the internet is "Would Twitter have even had the kind of explosion in growth if it weren't for third-party Twitter clients?" The answer, I think, is no. The reason Twitter has become such an established player in the media ecosystem is precisely because there were other clients taking the idea of Twitter and using it to create something innovative.
Now, what the company has struggled with is how to monetize these third party clients. Nova Spivak, on Tech Crunch, urged the company to give third-party clients two choices: either to use the API for free but accept in-stream ads from Twitter or pay a very nominal fee per thousand tweets. By launching this freemium API model, Twitter would be able to monetize all tweets.
This model would reduce Twitter's anxiety over third-party clients taking the lion's share of profits. Twitter would be able to use the ecosystem that has developed around it instead of turning against it. If Twitter doesn't find a way to work in collaboration with these "competitors," we doubt the company will have much of a future. Just look at this chart: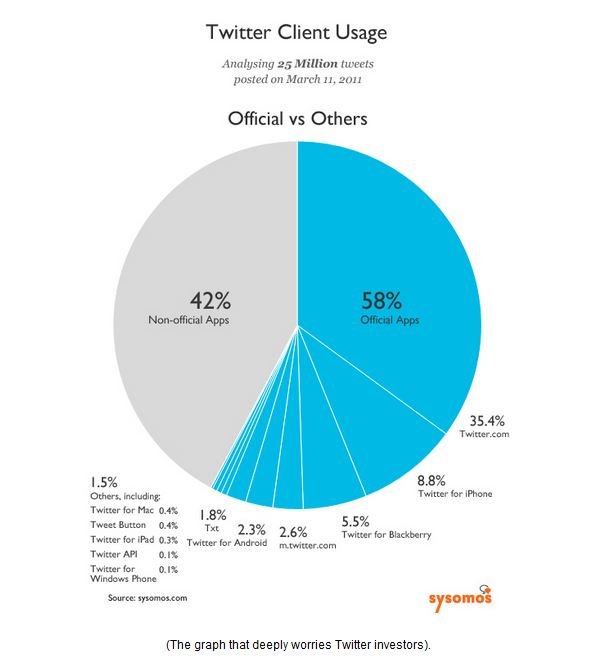 Buying competitiors is not a viable business strategy. In a field as ever-changing as internet messaging, there will constantly be competitors popping up offering an update on the Twitter interface.
Today it's Tweetdeck, but who will outpace Twitter tomorrow? Instead, the company should pursue a strategy of collaboration and use a fremium model to derive profit from new platforms.