Why the Samsung – Apple Suit is an Even Bigger Deal in South Korea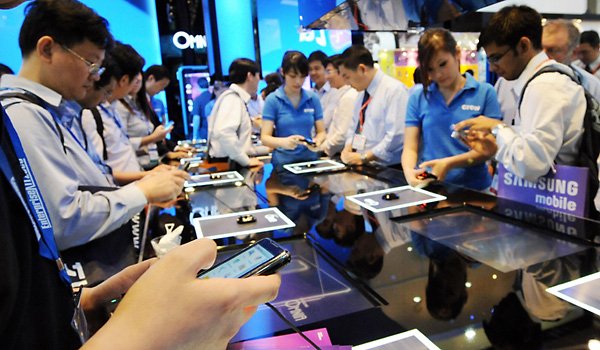 (A cell phone convention in Seoul, South Korea)
Yesterday, Yan brought us an eye-opening story about cell phones in North Korea and today I wanted to provide a glimpse at the advanced state of cell phone usage in South Korea -- and how Apple's suit against Samsung is changing the way the country sees its mobile phone industry.
South Korea, as you probably already know, has one of the strongest cell phone subscriber bases in the world. Over 90% of the country owns cell phones. Cell phones in South Korea always seem to be just ahead of ours, in terms of technology: in 2005, the country's mobile phones could already receive digital television signals. While we're still talking about the possibility of wireless payments for public transportation, the South Koreans have turned this idea into a reality: cell phones in South Korea also serve as mobile wallets and are used regularly to pay for bus fare.
But while South Korea may seem like a culture where the cell phone culture has advanced far beyond America's, it wasn't until 2009 that Apple was allowed to do much business in the country.
Before 2009, Apple products were a non-entity in South Korea. An obscure national regulation on ecrpytion technology (abolished last year) meant that all online transactions had to be done with Internet Explorer, which didn't run on the iPhone. It wasn't until 2009 that South Korea experienced what the media dubbed "Apple Shock." When the iPhone was released, it completely shattered the image many South Koreans had that no cell phone could compete with Samsung or LG.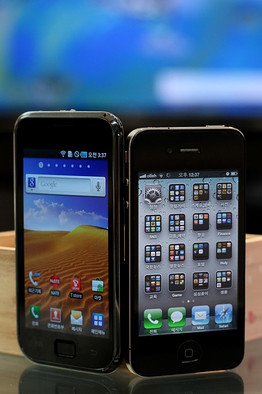 Samsung is by far the nation's largest business by revenue, profit, number of employees, stock market value and value of exports. Portrayals of the company in South Korean media focus on its accomplishments but also fear its sweeping power in the national economy. But since the iPhone was introduced, the national media has been rife with a new anxiety: fears of Apple overtaking Samsung.
Some of the fears are unfounded. Apple buys components for their phones from Samsung, makingan outright shunning of Samsung detrimental to the interests of both companies. As Tim Cook said about Apple's suit against the company: "We are Samsung's largest customer, and Samsung is a very valued component supplier to us, and I expect the strong relationship will continue."
However, Apple's statement continued, "separately from this, we felt the mobile communication division of Samsung had crossed the line, and after trying for some time to work the issue, we decided we needed to rely on the courts."
To Samsung, the suit feels like an attempt to try to control the company. "When a nail sticks out, [people] try to pound it down," Lee Kun-hee, the chairman of Samsung said in his response.
The irony is that while the lawsuit seems to be rifling feathers in South Korea, it's generating a big "meh" in the states, where Apple likely wanted it to cause the biggest stir. PC Magazine called the suit "fearful and sloppy," saying that if Apple wants to sue Samsung for copying its design, it should also expect a lawsuit from the LG Prada, which looks a whole lot like the iPhone and was released first. Yahoo news characterized the suit as hypocritical, since Mr. Jobs himself has quoted picasso in interviews: "Good artists copy, great artists steal."
But for the media in South Korea, the story has everything that could make a reader's heart pound with fear: a foreign company challenging the supremacy of Samsung and a lowering of the international stature of the company, which represents the pinacle of South Korean technological innovation.