Will This New App Help Prevent Crime?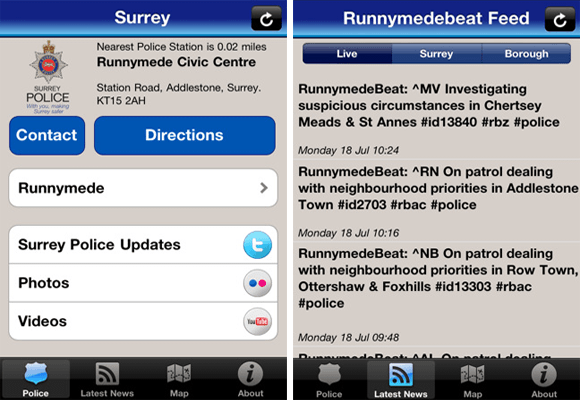 Surry, a small county in southern England, has embraced the new possibilities of mobile technology to connect citizens and law enforcement like never-before: via their smartphone. Over an easy to use and free to download app simply called Surrey Police app, smartphone users can gain real-time information about the actions of their local officials. The idea is simple: constables are required to enter their location and status into a short message service, which is then displayed in the app in both a Twitter-like micro-blog and a GPS based map-service. Apparently, English citizens want to make sure their boys in blue aren't just hanging around the pub.
About the App, Police and Criminal Justice Minister Nick Herbert said:
"This new app not only gives residents in Surrey the ability to view what crimes are happening on their streets in a convenient format, but crucially provides them with live updates on where and how their local neighbourhood police teams are taking action to tackle issues."
But where the app really gets interesting is in the built-in feed-back service. When the Police aren't on critical jobs –we're assuming personal protection and drug busts would be considered critical– the public can vote how important they think the officers current task is and even suggest new ones. The goal is to increase transparency and communication in the community.
The app in and of itself is a great step towards a more direct connection between the law and private citizens. However, I can't help feel that it also raises some red flags that bare consideration:
By asking citizens to directly communicate with law enforcement via smartphone aren't the police actively encouraging citizens to spy on one another? Granted, tip lines have been in existence as long as phones have been, however the immediacy and ease of use of modern smartphones makes the proposition of tipping off the police as easy as retweeting a rumor.
Do we really want Police action to come down to a popular vote? One of the key functions of law enforcement is to protect the powerless and prevent the tyranny of the masses. That's why police officers aren't elected, rather they are employed based on qualification. Think of the civil rights movement, if police were bound by popular sentiment, how would they behave?
Doesn't this open up a new channel for people to waste time and resources? Again if tipping off the police is as easy as retweeting then doesn't this make it much easier to send law enforcement on a wild goose chase?
In any case, it looks like this app is here to stay. According to a press release the app is currently available for iPhone but will be made available for Android and BlackBerry as the app goes England-wide in the coming months.