Acer Iconia Tab A700 Now On Presale. Tegra 3, Full HD Display For $450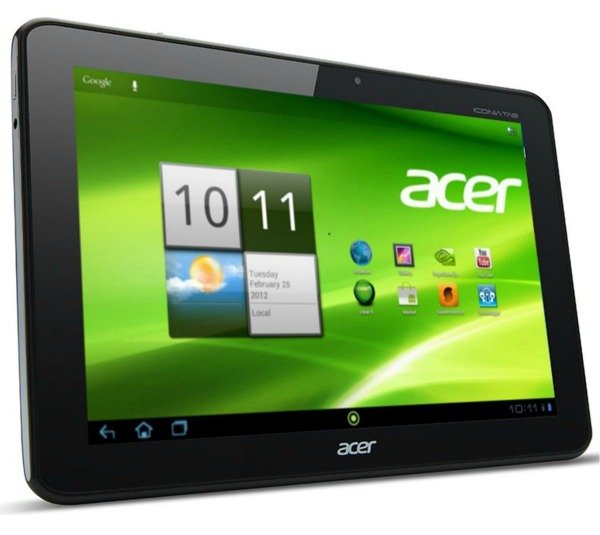 One of the most impressive things about the new iPad is its amazing display. The 2048 x 1536 resolution is certainly nice to look at, and I must admit that after witnessing it first hand, I was pretty amazed. Now I hear the term "iPad killer" pretty often, and while I'm not saying this device is the end all destruction of the iPad, it certainly is an impressive tablet. The tablet I'm referring to is the Acer Iconia Tab A700, which goes on pre-sale today and will ship later this month. So what's so special about it? To sum it up: quad core (Tegra 3), 32GB storage, and a full HD 1920 x 1200 display for the amazingly low price of $450.00.
The only thing that saddens me about this tablet is how badly the Acer display beats the pants off of my Asus Transformer Prime's display! Asus also announced a Full HD tablet, but Acer apparently beat them to the punch by offering this powerful tablet at a very good price.
Spec/dimension wise, we're looking at 1.47 pounds ( 0.06 inches thicker than the iPad and 0.2 pounds heavier), a 10.1 inch 1920 x 1200 Full HD (1080p) display, a quad core 1.3Ghz Tegra 3 processor, 32GB internal storage, a microSD slot, 1GB RAM, a 9800 mAh battery, a micro HDMI port, Dolby Mobile 3, and Android Ice Cream Sandwich out of the box. And the kicker is that you can get your hands on all that Android goodness for $450, which is $150 less than a 32GB iPad.
For anyone considering a powerful Android tablet that won't break your bank account, this is one to keep your eye on. This is Acer's premium tablet, and they have certainly done a lot to keep it powerful, competitive, and affordable.
The tablet can currently be pre-ordered in the US and Canada (from national retailers and Acer's online shop), but I have also spotted European retailers saying it will soon be available for around 479 euros.
Let us know if you plan on picking up one of these!
Picture credits: www.androider.de