WTF is Child Pornography Doing in Google Play?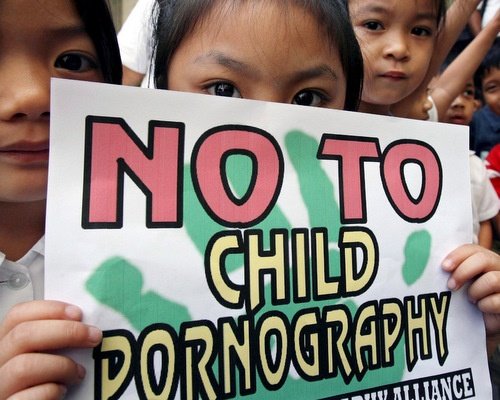 The Google Play terms of service explictly outlaws any child pornography, but that doesn't stop suggestive apps with underage girls from falling through the cracks.
Today, while searching through new apps on Google Play, I came across a Japanese app that features underage girls in suggestive poses. I have reported the app to Google. But this app just goes to show that in the "open" world of apps Google has created, a lot of really bad things can still end up published.
The Google Play terms of service explictly outlaws any child pornography. The official terms of service read, "Google has a zero-tolerance policy against child pornography. If we become aware of content with child pornography, we will report it to the appropriate authorities and delete the Google Accounts of those involved with the distribution." But the app I found, I suppose, falls into a gray zone. While it's not outright porn, it contains suggestive pictures with girls who are clearly underage.
The app has been in the Google Play store since NOVEMBER 2011.
Now either Google hasn't received any complaints or they have deemed the app to be safe for download. But I don't understand how an app that shows an 11 year old girl in a bathing suit, or lying down and showing off her butt, or suggestively sucking on a bottle isn't deemed majorly creepy at Google. If Google were smart, they would have deleted the app over a year ago.
Reporting it wasn't easy. While on your phone, you can report or flag apps just by pressing a button, on the Google Play store you have to click the "help button," click "contact us," "Android apps," "Contact us" (again) and fill out a form under "report inappropriate app." The process takes far longer than necessary, and should be streamlined.
Google definitely needs to consider the fight against child porn apps to be much more worthwhile and create a better approval process to sift these apps out of the store before they get a chance for publication. As of now, simply including a button that reads "report this app" is a start, but in this case, Apple's App Store is way ahead. There are benefits to creating a constricted ecosystem. For one, child porn stays OUT.