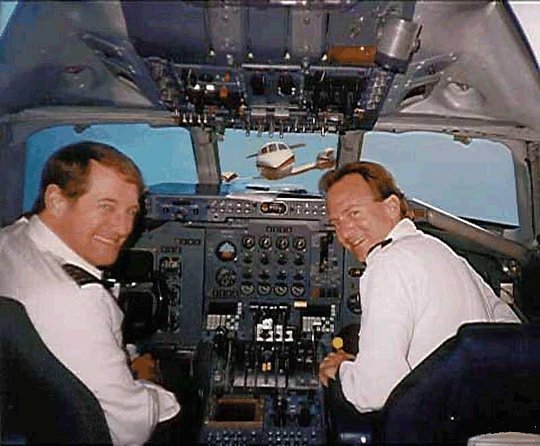 Air traffic controllers certainly see a lot of action (not in that sense, get your minds out of the gutter
), and action, as we know, keeps us young and sharp. Even if I can't concur 100% with this statement there's no denying that the following dialogue between a pilot and the tower exudes an attitude of aplomb:

Tower: "Please swerve 45 degrees to the right in order to minimize noise pollution."
Pilot: "How much noise can we be making, we're at 35,000 feet!"
Tower: "I'm talking about the noise that would result if you were to crash into the 727 with your 707!"

Pretty good, eh? I've got another one for you:

An Alitalia pilot who's cockpit has been rendered almost completely non-functional by lighting:
"Almost everything in the cockpit has failed. Nothing's working. Even our altimeters have failed us…"
After five minutes of complaining, a pilot from another plane chimes in:
"Shut your trap and die like a man!"

Are you also dying to reach this state of chillaxing? You want to look another man's death straight in the eye, with your feet comfortably planted on the ground? Then don't miss out on trying your hand as an air traffic controller.

Read on in order to find out if and how Air Traffic Control Lite makes this possible, if they game's worth your time, and if the entire airspace is about to collapse.
Today's review was written by one of the AndroidPIT Godfathers: Mr. Fabien Röhlinger.

| | |
| --- | --- |
| Reviewed version | Latest version |
| 1.1.3 | 1.5 |
Features & Use
As previously mentioned: you play the role of the air traffic controller. And it's just like in real life: you really can't complain about not having enough to do, because there are a lot of planes, and all of them need to land safely.

In order for everything to run smoothly you have to make sure that all planes follow different flight paths so that they can reach the landing strips and not crash into each other.
The challenge is thus to guide and navigate the planes.

There are different game modes to choose from:

• Classic game mode
(This is the only mode which is available in the Lite version.) Ensure a safe landing for as many planes as possible, and don't let them collide. If you do, the game's over.

• Order game mode
The planes must land in a specific sequence which you have to stick to if you want to score bonus points which will later determine the final score. If you don't stick to the sequence the score is automatically reset to 1.

• No limit game mode
You have 5 to 10 minutes to help as many planes as possible land safely. If two planes collide the game isn't over immediately, but you will lose 5 points. The game is over once the time has run out.

Bottom line:
I was already familiar with Air Traffic Control Lite thanks to the iPad, and it is my all time favorite. This version isn't quite as good as the iOS, but it's still lots of fun—even if it's anything but easy.
Screen & Controls
Controlling the planes is pretty simple: touch them with your finger and guide them to the landing strip. A dotted flight path appears which shows you the plane's trajectory. It isn't the end of the world if two flight paths happen to overlap, provided that the planes aren't flying across the same space at the same time.

There's a different landing ground for helicopters; there are arrows indicating where they should land.

There's an Options point in the main menu which allows you to change sound settings or switch off the vibrate function.
You will also find the game's tutorial here (which is very instructive), and you can consult how many points you've collected so far under Scores.

Bottom line:
Unfortunately, Air Traffic Control Lite's graphic and controls aren't as good as the iPad counterpart. The planes don't fly as smoothly in the Android version, and it just doesn't look as cool.


Speed & Stability
I didn't experience any issues concerning Air Traffic Control Lite's stability throughout the testing phase. The app's speed is also very decent.
When I was trying to read the tutorial but occasionally wanted to set my phone on stand-by I had to keep restarting the game every time I reactivated my phone—a bit weird.
Price/Performance Ratio
Air Traffic Control Lite can be downloaded free of cost. The full version can obtained for EUR1,50 at the moment.