AirDroid – Light-As-Air Smartphone Admin. The word 'AirDroid' has popped up repeatedly in our forum, and careful note-takers that we are, we just had to try out it out for ourselves.
So what's AirDroid all about? It's a quaint little app that enables users to manage their smartphones via their computers via wireles WiFi, of course.
Find out what we make of AirDroid in today's review.
| | |
| --- | --- |
| Reviewed version | Latest version |
| 1.0.4 beta | Varies with device |
Features & Use
Test device:
-Samsung Galaxy Nexus 4.0.4
AirDroid's app can't do very much per se—the main screen simply reveals an internet address, a password and a few other options (more about that later).
In order to run your smartphone via your browser on your computer, enter the web address and log in using the password. You will then see a view that strongly resembles a systems software desktop. Open apps are displayed near the bottom and the background image shows all available programmes.
Messages
Music
Apps
Ringtones
Files
Contacts
Market
Call Log
Photos
Clipboard
Check on the top right for a small information window and click on it in order to see more infos re: the phone.
AirDroid boasts a lot of good features; we especially like the file browser and the slideshow for pictures, which both prove to be very useful.
Six further functions can be found within the app:
Device
Apps
Files
Tasks
Settings
About
A bunch of functions here aren't accessible via the web interface, which is a pity (e.g. Device information and task manager). We would advise against using a task killer at this point.
Bottom line:
AirDroid Beta is stuffed to the brim with useful functions that make for easy and comfortable management of files located on the smartphone, via the computer.
Not all features that can be found within the app are available of the web interface, but we have high hopes for this app considering that it's still in its beta phase.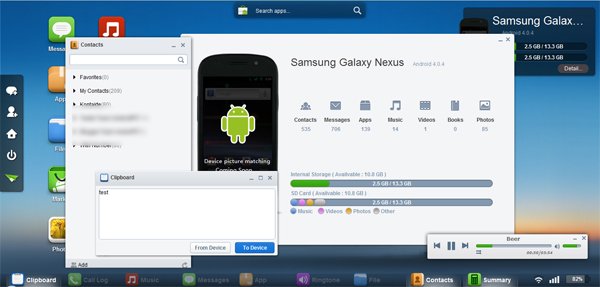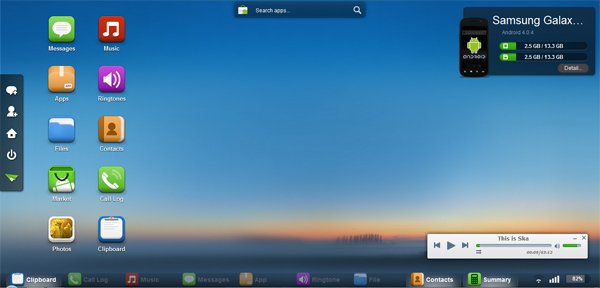 Screen & Controls
Using the AirDroid app and its web interface is nice and easy—so easy and intuitive in fact that it's virtually impossible to go wrong.
We especially like that the main screen is designed to look like a systems software desktop (complte with status bars and windows), which makes it especially clear and straight forward to use.
Should you get lost along the way despite all this, simply consult the help section.
Speed & Stability
The biggest drawback when it comes to apps such as AirDroid is the speed, or lack thereof. All data (e.g. When copying files via file exporter) is transmitted via a wireless network, so the process can take a while. Patience is a virtue, as we know...
Price/Performance Ratio
AirDroid is available for free and free of ads from the Google Play Store.