Three alternative apps for benchmarking your Android phone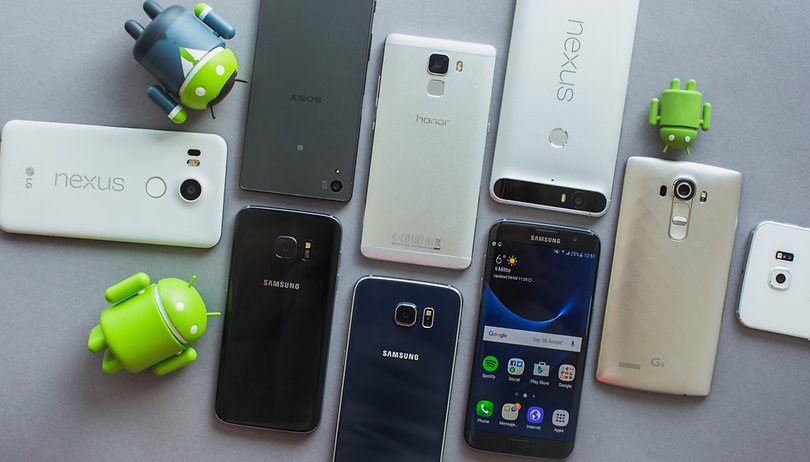 Although AnTuTu, Geekbench and Vellamo are usually the go-to apps for benchmark tests, it's always good to have alternatives. Here's a list of three less common – though no less impressive – tools to help you analyze your device's performance.
PCMark for Android
A famous benchmark product for Windows, PCMark is also a fantastic way to measure the efficiency of your Android smartphone.
It's an all in one package which tests performance across four key areas: photo editing, video watching, web browsing and document editing.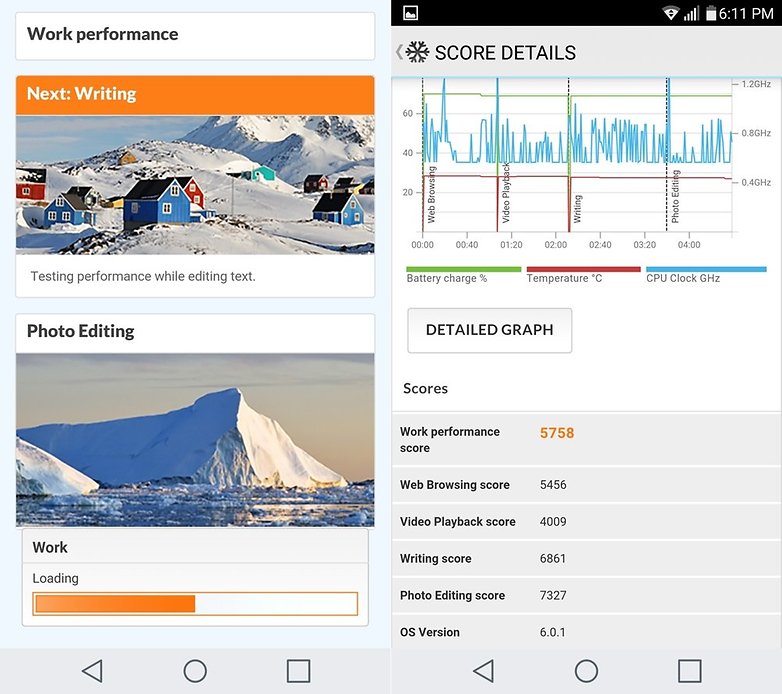 The developers of PCMark's Android app claim that the app analyzes smartphone performance based on real tasks and not on algorithms or "artificial" stimulus employed by competing benchmarking apps, which is one of its key strengths.
The program can also analyze battery performance using the same criteria mentioned above, but it requires a little more patience from the user: this can take a long time. Further, the device battery must be charged to at least 80 percent to initialize the test. Ultimately, it's a nice feature that will likely only be taken advantage of by enthusiasts.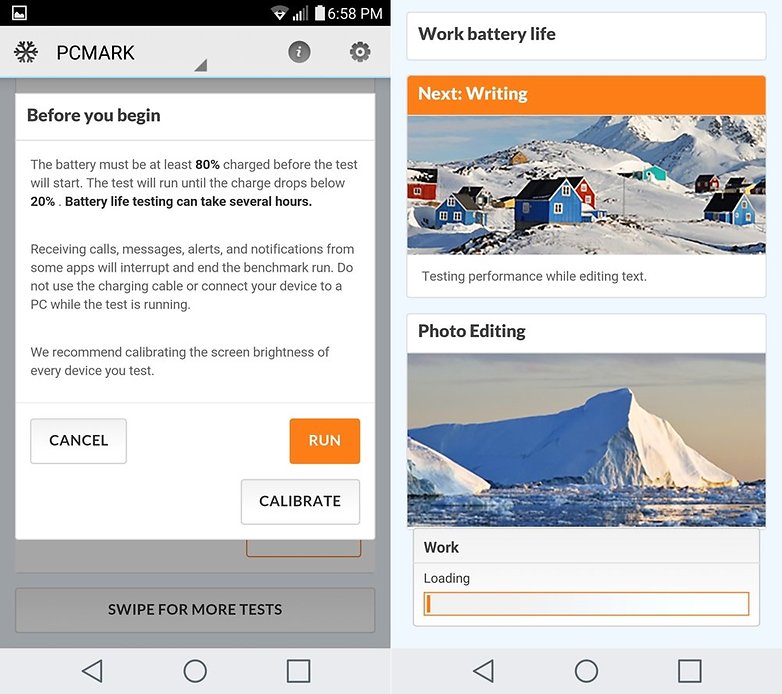 The Play Store download comes in at around 25 MB, but if you want to carry out all its benchmarking tasks, you'll be required to download a total of 400 MB of files. Thus, PCMark is an investment in Android storage space, and time, but it's an excellent option for those who want to accurately investigate device power.
MobileXPRT 2015
Photo-editing apps can be a serious resource hog on Android. Perfecting your lovely snaps requires a good chunk of processing power, therefore, it might be worthwhile to know how a device copes with running this type of task.
That's where MobileXPRT 2015 enters the story.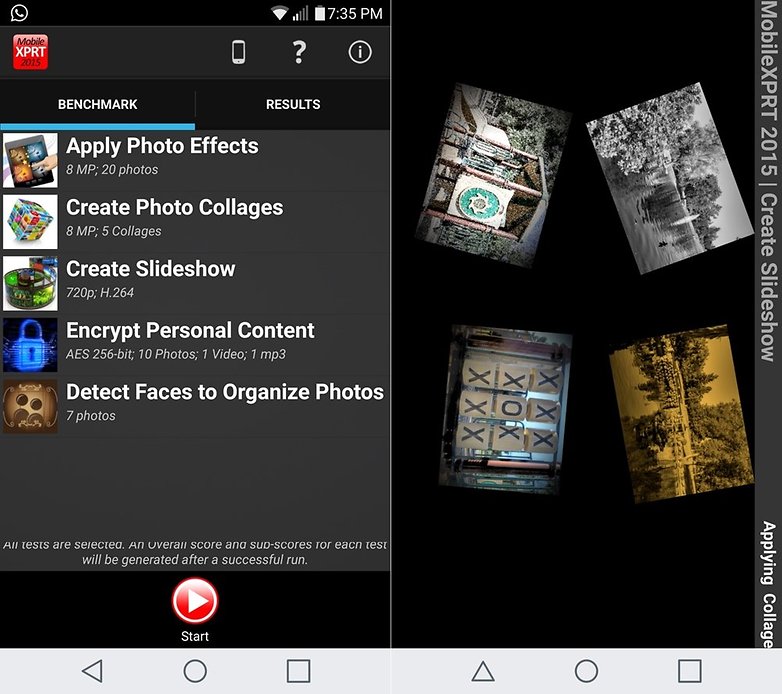 MobileXPRT 2015 evaluates five photography-related processes: creating slideshows, collages, effects, facial recognition for album organization and personal content encryption. It then gives each of these processes a score, which are combined to produce a total.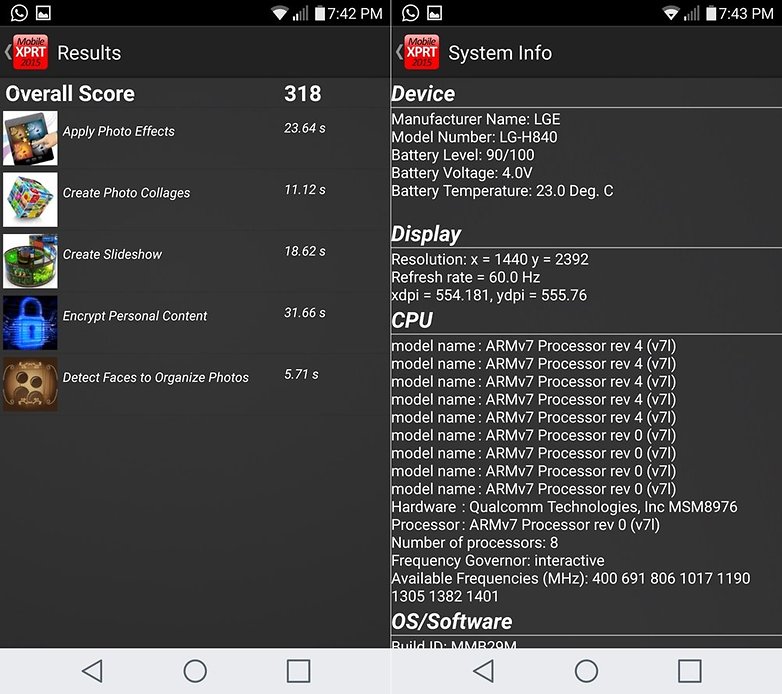 It's a fast and simple tool, and if you're in any doubt as to the toll that photo-effects can take on processing, check out this video of Xperia Z3+; the device is clearly in overdrive.
The MobileXPRT 2015 app runs in 32 and 64-bit hardware and is compatible with devices running Android 4.4 KitKat or higher. Like PCMark, it just "seems" light at 18 MB, but the full download comes in at around 200 MB.
MobileXPRT 2015 doesn't include device comparisons or rankings, but if you want specifics on your devices photo-editing chops, give this one a try.
JetStream
JetStream is a suite of JavaScript-based tests which evaluates the browser performance of your smartphone. Using real and simulated tasks, this app compiles data based on a variety of parameters and produces individual scores for each item. Interpreting these ratings is simple: the higher score, the better the performance of your browser.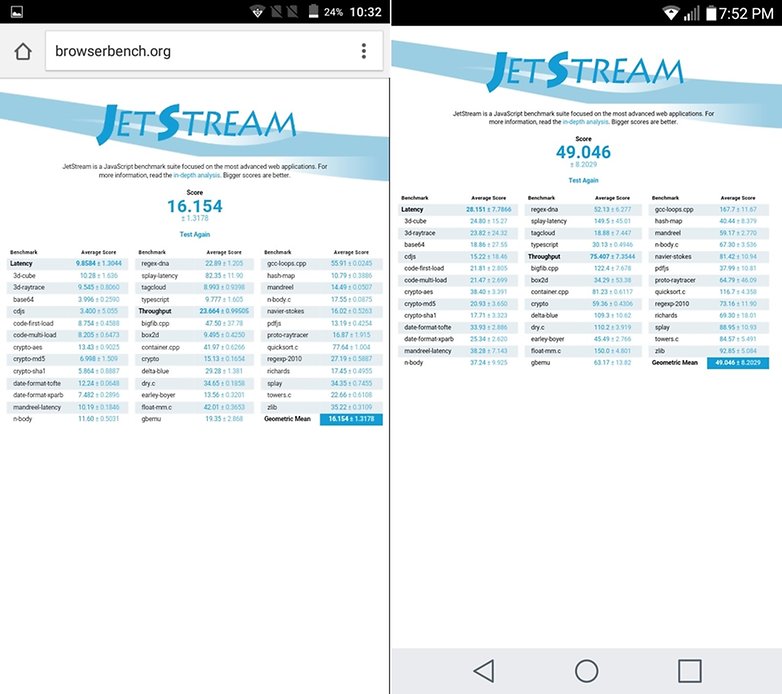 Another advantage of JetStream is that it's a web application, meaning no download is required. Simply access it from your smartphone browser at this link then hit the "Start Test" button. Simple.
Bonus App: Basemark X Game Benchmark
If you're looking for a quick-and-dirty way to analyze your device's graphics performance, consider downloading Basemark X. This conducts a short graphics performance test and produces a result which you can cross-check with other phones at the Basemark website (provided via an external link at the end of the test). Nice.
What is your favorite benchmarking tool? Let me know in the comments.