Amazon Appstore Celebrates Halloween With 7 Days of Free Spooky Apps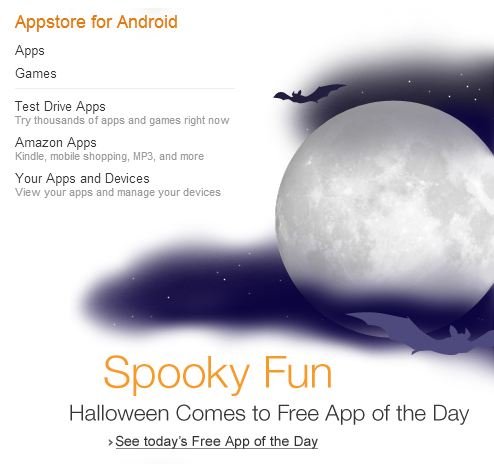 The Amazon Appstore is offering some devilish deals on spooky Halloween-themed apps over the coming 7 days. Starting today, and lasting until the 31st of October, Amazon is offering apps like "The Haunt" and "It's a Great Pumpkin, Charlie Brown" for free.
The first app in Amazon's Appstore that will go on sale is "Witches' Brew: Haloween Potion Making Fun!" which is a game for making spells. The game features over 100 levels, HD graphics and tilt control play capabilities. The games which follow include Slashing Pumpkins (kind of like Fruit Ninja, but with pumpkins), Haloween Mahjong (a tile-colecting game) Wonder Witches (a broomstick flying game), and Face Frenzy Monster-Edition (a makeover app for monsters).
The last, and arguably best, two app that will go on sale are "The Haunt" and "It's a Great Pumpkin, Charlie Brown." "The Haunt," is a haunted house game with spooky settings, scary surprises and lots of plot twists. "It's a Great Pumpkin, Charlie Brown" is a digitally-reworked version of the classic book, with original dialogue, animated films and other tricks and treats. It's usually $3.99, but Amazon is offering it for zero dollars, so long as you purchase it on Halloween.
Apps can be downloaded through the Amazon Appstore app or directly from Amazon's website.