Amazon reveals Fire Phone with simulated 3D display & shopping features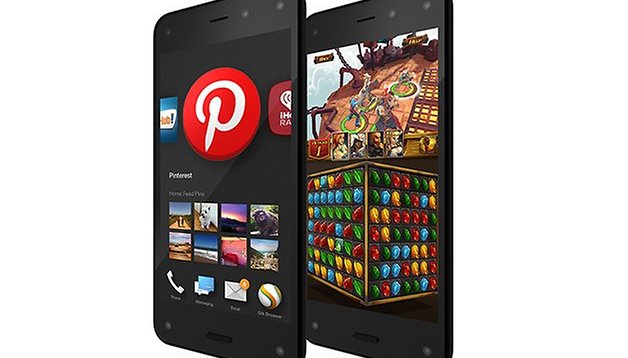 Amazon's first foray into the smartphone world was unveiled earlier tonight, titled the Amazon Fire Phone. Were the rumors correct? We've got the full lowdown on what to expect from this new Android-based device.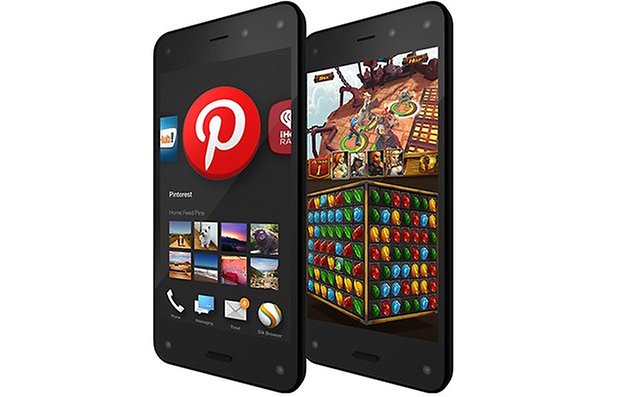 We suspected four cameras, we suspected 3D technology, we suspected animatronic moving limbs and holographic projection (well, that was my suspicion anyway), and we weren't too far off, as it happens.
After the teaser video Amazon released earlier in the year hinted at some kind of motion tracking, the rumors started to fly. Though there is no true 3D as such, 3D is simulated through a feature they call "Dynamic Perspective." The device contains four front-facing sensors which track your head and eye-movement, altering the interface based on your relative position. For example, tilting your noggin while looking at a map will reveal different visuals, like street or shop names.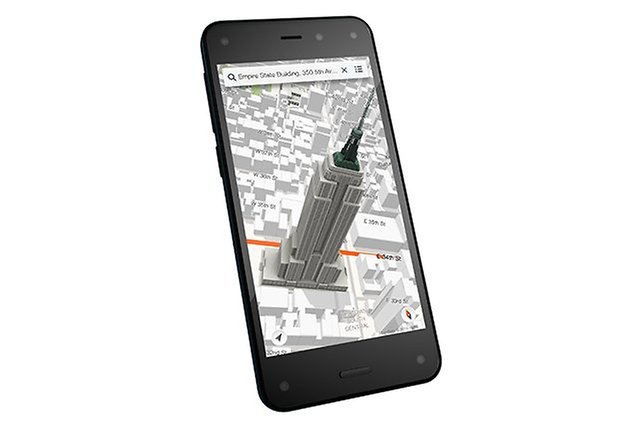 Amazon were always going to employ all of their other revenue streams, given their immense success with ebooks, music, and heck, pretty much anything, so naturally the Fire Phone is optimized for shoppers. Amazon have included a subscription service for Amazon Prime, and also focused on the contentious subject of "showrooming" (where shoppers test a product at a store first, before buying it later online), with a unqiue service name Firefly.
Firefly is said to offer incredibly accurate image recognition, capable of spotting over 70 million products, as well as TV shows and audio. Users will instantly be able to compare the availability and price of scanned items with the Amazon online store. (On the subject of stores, the Fire Phone will make use of Amazon's own app store, and won't have access to the Google Play Store.) The Firefly feature has a dedicated button on the side of the device, so it is expected to play a major role in the future of the handset.
Amazon were also keen to talk about the intergration of its Mayday service, which allows users to contact their expert tech support team at any time. Within 15 seconds you will be able to receive free, live video support for any problems you may encounter with the device.
Here's the full list of specifications:
| | |
| --- | --- |
| System | Fire OS 3.5.0 |
| Display | 4.7" HD LCD (1,280 x 720 pixels, 315 ppi), 590 cd/m2 brightness (typical), 1000:1 contrast ratio (typical) |
| Processor | Quad-core Snapdragon 800 CPU, 2.2 GHz, Adreno 330 GPU |
| RAM | 2 GB |
| Internal storage | 32 GB or 64 GB |
| Battery | Battery size: 2,400 mAh. Talk time: up to 22 hours; standby time: up to 285 hours. Video playback: up to 11 hours; audio playback: up to 65 hours. |
| Cameras | 13 MP rear-facing camera, multi-frame HDR, auto-focus, optical image stabilization, f/2.0 5-element wide aperture lens, LED flash, 2.1 MP front-facing camera |
| Connectivity | 802.11a/b/g/n/ac Wi-Fi, up to 300 Mbps with channel bonding; Bluetooth 3.0 wireless technology; NFC enabled |
| Dimensions | 5.5" x 2.6" x 0.35" (139.2mm x 66.5mm x 8.9mm) |
| Weight | 5.64 ounces (160 grams) |
The Amazon Fire Phone is due to be released on July 25th for $199 for the 32 GB version and $299 for the 64 GB version for a 2 year contract with AT&T.
So that's where we're at, we'll have more details on availability they it arrive. What do you think so far?