Android 4.2.2 Update Improves Nexus 7 Battery Life by 2 Hours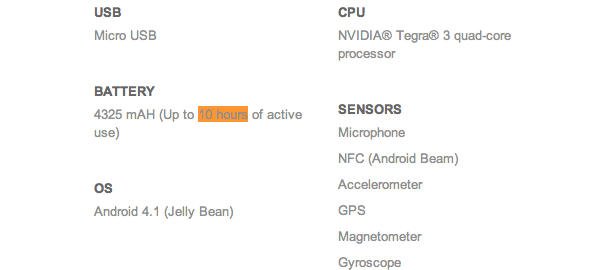 Interesting news for Nexus 7 owners and anyone else who received the Android 4.2.2 update on their Nexus devices: it seems Google has updated the battery life on the product page of the Nexus 7 to reflect the update, upping it from 8 hours to "up to 10 hours of active use." Google didn't change anything else on the Nexus 7 product page, suggesting that the update alone was cause for the increase in expected battery life.
Google has been hard at work on the "X" phone in partnership with Motorola, and Larry Page has said that one of their goals was to create a phone that is both durable and has a "great battery life," so it's clear the company cares about creating longer-lasting Androids. It's possible the latest update works more smoothly with the processor on the Nexus 7, specifically, to reduce battery waste.
The Android 4.2.2 update just rolled out and you can manually download it here. The update includes a number of improvements, including the ability to toggle the WiFi and Bluetooth via Quick Settings, new sounds to indicate when your battery is low and a number of bug fixes. It wasn't thought to be a huge update, which makes the increase in battery life all the more delightfully surprising.
Have you downloaded Android 4.2.2 on your Nexus 7? Notice any significant change in battery life?