Creepy App Permissions Are a Turn-Off for Over 50% of Phone Owners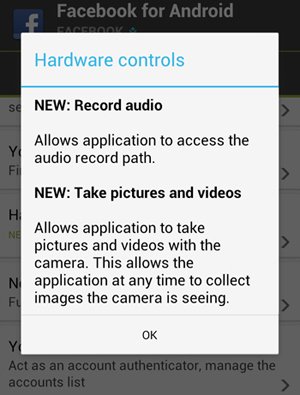 You know that weather app for Android you wanted to download until you realized it was asking to read and send you text messages, connect to the Internet whenever it wanted and track your location? Well if, at that moment, you wanted to throw your phone out the window, enroll in the Witness Protection Program and relocate to a cave in Kabul, you're not alone.
Turns out, more than half of mobile app users have avoided certain apps "due to concerns about the way personal information is shared or collected by the app," according to a survey conducted by the Pew Research Center's Internet & American Life Project.
The study, which polled 2,254 adults, also found that 30% of app users have uninstalled an app that was already on their cell phone because they learned it was collecting personal information they didn't want to share.
I'm not sure what app developers can learn from this. 30% seems like a pretty high uninstall rate, until you realize it means that a smartphone owner has only copped to uninstalling one app, during the entire history of their smartphone use. Considering the fact that the average number of installed apps in the U.S. is somewhere around 29, simply deleting one app doesn't seem like such a big deal.
But any survey which seems to support the notion that app developers should be paying closer attention to the creepy permissions they demand from smartphone owners is a survey I can get behind. Devs: folks aren't going to buy your donkey calendar app if it wants to track a phone's location. That really isn't worth it to consumers. Like, no one is going to be like, "Oooh, this app reads all my text messages but the donkeys in this calendar are just soooo cute! I have to buy it immediately." Likely, they'll unfavorably review your app on Google Play with lots of exclamation points. Conclusion: find a new revenue source.
Smartphone owners: keep doing what you're doing. Some of those apps out there are way creepy.