Get Ice Cream Sandwich Launcher On Your Gingerbread Phone NOW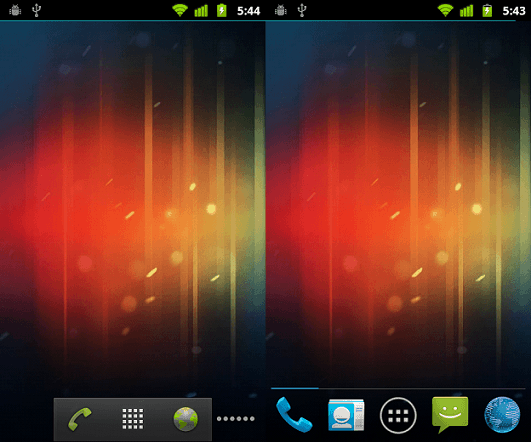 I know a hell of a lot of Android users who are REALLY getting tired of waiting for Ice Cream Sandwich to come to their device, and understandably. I mean yeah, there's always the option of rooting, but many people don't want to go through the somewhat complex (and somewhat risky) process of rooting their phone to get a taste of Google's newest Android offering. We have seen some really good ICS launchers that you can download if you already have ICS (Apex Launcher, Nova Launcher, ect), but what about people still waiting on the update? Well, if you're one of the many would would like a taste of Ice Cream Sandwich on your Gingerbread device NOW, you might want to check the Google Play Store for Phoenix Launcher.
Phoenix Launcher is an ICS launcher for Gingerbread devices, and will give you ICS Icons, the ICS app drawer, and the ICS launcher when installing it. (Above is a screenshot of the how Gingerbread looks with and without the launcher. I must admit that look wise, they pretty much nailed it with this one).
The launcher will also let you change the way you interact with your Home screens, and the docked icons at the botton (along with the naviation buttons) are integrated into the launcher. After playing with it for a few minutes and comparing it to the ICS launcher on my Sensation, I can confirm that it does bring a lot of ICS to Gingerbread.
There are pro and free versions of the app that you can download on the Google Play Store, and I tested the free version on my colleagues Samsung Galaxy S2 for a bit. There were a few bugs, so don't expect perfection yet. But it seems like a pretty solid launcher for the most part, and I'm sure it will only get better from here.
Remember that after installing it, a pop up will appear asking which launcher you wish to use after pressing the home button. Just tick the Phoenix Launcher button and tick the "use by default for this action" to make it your new active launcher. If you decide you don't like it, you can either uninstall it, or go into settings-apps-Phoenix Launcher – clear defaults to get back to your original launcher.
Pretty easy! Until you get your official ICS update, have fun with a bit of ICS on Gingerbread (mmmmhhh..now I'm hungry)!
Picture credits: CNET