Why Android Desperately Needs The Next iPhone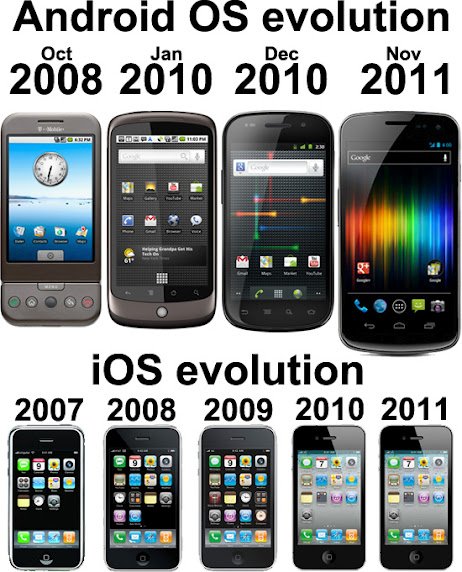 In just 5 days, the eyes of the tech world will be glued to an event that will surely send shockwaves around the globe: Apple's unveiling of the next iPhone. Lately, there have been unusually high amounts of tension between Android and iPhone users, as Apple's shocking "win" over Samsung has raised concerns over the current state of the US patent system, Apple's attitude towards competitors, Samsung's ability to innovate, and Android's originality. With all that being said, and with all the mixed feelings towards Apple within the Android community, one fact remains that most Android fans fail to consider: The iPhone 5 will play a critical role in Android's growth. To put it simply, Android needs the next iPhone a lot more than you might think. But why?
Dominant Market Share vs. Popularity
It's no secret that sales, activations, and overall popularity of Android is at an all time high. Just yesterday, we learned that the Galaxy S3 surpassed the iPhone 4S as best selling US smartphone, and that Android activations have grown to 1.3 million activations per day. In the last quarter, Android worldwide market share surged to a staggering 68%, which is significantly more than the less than 20% worldwide share that Apple currently holds.
While Android's numbers/marketshare certainly are impressive, the fact of the matter is that the iPhone is still without a doubt the worlds most popular smartphone. But this year, Android may actually have a chance to slowly curve the attitudes of consumers slowly away from the iPhone 5. Why this year? For two reasons:
The iPhone finally has a true competitor in the Galaxy S3, and...
Because consumers (many of them iOS users) are beginning to feel that the iPhone's design and software are outdated.
The iPhone Has Never Been As Threatened As It is Today
Apple has never been in a position where they were forced to be seriously concerned about one specific Android device. Up until now, Android has gained traction with sheer numbers, not with a dominant flagship device. Samsung however, has now leveled the playing field. The Galaxy S2 demonstrated that Android could successfully have a "flagship device" that consumers would also notice before purchasing an iPhone. The Galaxy S3 demonstrated that Android could deliver a flagship that consumers could actually prefer over the iPhone.
Sheer number of Android devices + two successful flagships + one record smashing Android device (GS3) = a tricky situation for Apple. Not only is Apple currently being outpaced in regards to market share, they now have a competitor that is gaining something with consumers that Apple is very uncomfortable with: popularity.
So why exactly does Android need the iPhone so badly?
The shift
When the iPhone 5 (aka next/new iPhone) arrives next week, many speculate that it might not be enough of an upgrade from the iPhone 4S to keep all of Apple's customers loyal to the brand. Sure, it will sell like hotcakes, but it is in desperate need of a design/software overhaul. If the next iPhone closely resembles the iPhone 4S in the way that the iPhone 4 resembled the 4S, consumers will most likely take notice that the iPhone hasn't evolved that much in the past 3 years (as shown in the picture above). As the years go by, iPhone users will want something truly different, either in terms of design and/or software. What they won't want is a phone that has generally worn the same outfit for the past 3 years. It needs to evolve.
The evolution that many iPhone fans are hoping for is currently taking place within the Android ecosystem, and it's happening a lot faster than Apple anticipated. Consumers are intrigued by the larger screens of Android devices, from the customization options, from the hardware, and by the constant improvements to the UI. If you compare Android phones from 3 years with an Android device that's currently running ICS or JB, it's very easy to see how much it has changed in terms of software, hardware, and design. Android has a chance here to initiate a shift within the industry. It has a chance to demonstrate that Android is more focused on improvement, design, variety of choice (screen size, price, UI, ect) than Apple currently is, and has the flagship device in its arsenal to accomplish that shift.
In other words, if the next iPhone looks/feels in any way too similar to the iPhone 4 or 4S, even its most loyal consumers will start having a look at that big bright Galaxy S3 display that accomplished the impossible (dethroning the iPhone 4S). In previous years, Apple could get away with this strategy, as there wasn't one specific Android phone that was getting so much consumer attention.
Unfortunately for Apple, things have changed.
Conclusion
Android needs the iPhone 5. They need for it to have a slightly bigger screen, slightly improved hardware, and slightly improved features. They need it to demonstrate that "slightly improved" is not what Android is all about. They need it to prove that if you want a bigger screen, bigger hardware, more customization options, and something truly different every year, that you can now find it in an Android device that has quickly gained a reputation as being a legitimate competitor to the iPhone. They need it to demonstrate that Android devices, unlike the iPhone, greatly evolve at an amazing pace, and that when you purchase a new Android flagship device, you aren't simply purchasing an upgraded version of the device you bought last year.
Once consumers realize and see that (assuming the iPhone isn't something completely different than its previous model), then and only then can the shift towards popularity slowly begin to shift away from Apple and towards Android. In order for that to happen, the iPhone must exist and do what it always does. Android will naturally continue to grow, but in order to reach it's next evolution, consumers need to see that the next iPhone is simply a lot more of the same old thing.
Picture credits: techmog.com and technobuffalo.com