Android is Hot on Apple's Heels with 44% Market Share This Quarter It's no secret that Apple currently dominates the tablet market, but they're rapidly losing ground according to statistics released by the market agency ABI Research. Android was hot on Apple's heels this quarter by comprising more than 44% of the tablet market while Apple makes up nearly 55%.
Ohh yeahh! Go Google, it's your burfday! Go Google it's your burfday! Not really, it's actually more like Christmas- but you know what I mean!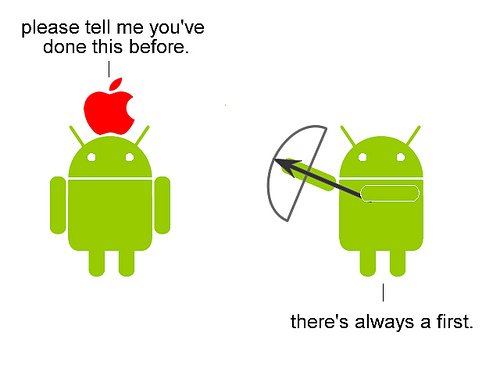 For the last 10 fiscal quarters, Apple has been in the lead, and they still are, but it's actually starting to look like Android will be catching up soon. According to ABI Research, Apple's current numbers are the lowest they had ever been, since 2010 when the iPad first launched.
Apple gave up 14% total market share in this last quarter, impacted primarily by Samsung, Amazon and ASUS (from the Nexus 7). If you truly want to, you could even say that Google was another source that had a strong impact on Apple's numbers.
"Despite maintaining its lead for 10 straight quarters, competition from tablets powered by Google's Android OS continue to eat away at Apple's success."
Senior practice director Jeff Orr says the loss can be attributed to the poorly selling iPad mini which failed to attract consumer attention. "With the introduction of a smaller, lower-cost iPad mini, Apple has acknowledged Android's beachhead of 7-inch-class tablets, though at the same time, it has failed to deliver a knockout punch through innovation, pricing, and availability during the most critical selling period of the year."
In fact, ABI Research seems to think that the release of the iPad mini shifted attention to alternate markets as consumers migrated towards more budget friendly devices.
Orr also went on, commenting about Android's future success in the tablet market.
"As the OS of choice for the majority of device OEMs, we expect the Android ecosystem to continue growing in numbers – new manufacturers, better device choices for reaching more markets, and more developers finding value from apps and content."
This is excellent news for the Android ecosystem as it seems that the sudden influx of budget tablets, into the market, are doing just what they were meant to. Ultimately, they are making a dent in Apple's sales, and providing consumers with plenty of competitive low-cost alternatives.
I'd take the Nexus 7 or Nexus 10 over the iPad any day. I know my reasoning behind it, and obviously you do too considering I'm an Android fanboy (hello- AndroidPIT, duh). I'd be interested to hear from those of you who opted to get an Android tablet this holiday season over the iPad. Why did you make the decision to go with Android instead? What factor influenced your decision the most, was it cost, or common feature sets?