Android Moga Game Controller Available October 21st For $49.99 Gaming on Android is literally hitting new levels of epic lately, and this little device could help to make it that much more awesome. This particular controller dock is called Mogo, and while it's not the first Android controller dock that we've seen, the fact that it's currently receiving support from Gameloft, Atari, Namco, Bandai, and even Sega is leading us to believe that it might just be a winner.
PowerA is the company behind the device, and they are hoping that Android gamers will use the controller to take mobile gaming to the next level. PowerA President Eric Bensussen stated that since "Gamers are already walking around with phones with exceptional screens and fast chips", that they can "clip that phone into the Moga controller and finally get console quality gaming experiences anywhere for under 50 dollars".
PowerA has a long list of companies that are supporting the device (some mentioned above), and they are already busy developing games for it. Gameloft is currently working Moga compatible versions of The Dark Knight Rises HD, Asphalt 7, and Dungeon Hunter 3, whily Remedy has already enhanced Death Rally to work with the Moga gamepad. Developers who wish to make their games compatible can do so via the Moga SDK, and Remedy Entertainment Senior Voice President Aki Järvilheto stated that the SDK made it a pretty simple process:
"The Moga SDK made it quick and easy to make our steering controls feel more precise and natural in Death Rally," said Aki Järvilehto, the senior vice president at Remedy Entertainment, creators of the Max Payne and Alan Wake console franchises. "Finally, we have something that's easy to use, simple to implement, and provides console-like controls that gamers have been yearning for."
Hearing that from the guy responsible for Max Payne and Alan Wake is part of what's making me even more excited about this gamepad!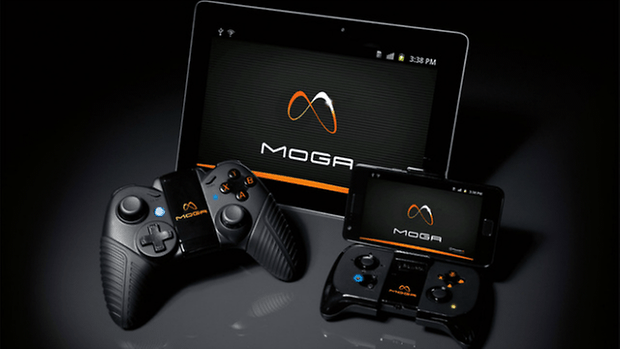 The Moga controller connects via Bluetooth, is powered by 2 AAA batteries, can fit in your pocket, sports 2 analog sticks, two shoulder buttons, 4 action buttons, and a start and select button. It is compatible with Android devices running Android Gingerbread and higher, and can reportedly provide 18 hours of playtime on the 2 batteries. The controller will go on sale October 21st and will sell for $49.99.
I really love concepts like this, and with so many companies designing these docks for both phones and tablets, the only direction that gaming on Android can go is up.
What do you guys think of the Moga controller?
Picture credits: www.thetechlabs.com and g4tv.com