Android-powered iPhone In Brazil Does The Dual SIM Dance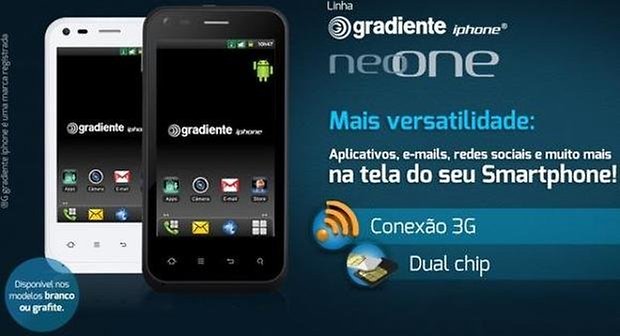 An iPhone that runs on the Android operating system? No, this is not news from a parallel universe, but rather, a stroke of good fortune for Gradiente (aka IGB Eletrônica) who actually filed a trademark for the iPhone name in Brazil at the turn of the 21st century, which is a good 7 years before Apple's iPhone was introduced. Despite Apple's phenomenal rise in the smartphone market, Gradiente managed to hold their ground in Brazil, and has decided to introduce a new iPhone (its full name would be the iPhone Neo One) in Brazil that runs on the Android operating system. How ironic!
Needless to say, the executives over at Apple are not going to be too thrilled with this development, as Cupertino too, wants a slice of the smartphone market in Brazil, with their own iPhones being sold in that part of the world. To sue Gradiente is out of the question since Brazil's Institute of Industrial Property has recently ruled that both companies have the right to use the iPhone name where mobile devices are concerned.
Apple is seen to be pursuing an appeal in an attempt to gain exclusivity on the iPhone name, but we do not think that Apple will win the appeal. Perhaps if they were to purchase the rights from Gradiente, then things might be different, just as how they picked the iPhone rights from Cisco in the US.
Apart from the possible legal drama, the iPhone Neo One is a rather backward Android device, running on just Android 2.3 Gingerbread, but at least it comes with dual SIM card slots for those who want two lines without having to tote around a pair of phones.
Other hardware features include a 3.7-inch display at 480 x 320 resolution, a front-facing VGA camera, a 5-megapixel shooter at the back, and a microSD memory card slot. $305 for an unlocked iPhone Neo One will certainly guarantee it slow sales.