 LOL! FBI Can't Unlock Pimps Android Phone, Serves Warrant To Google!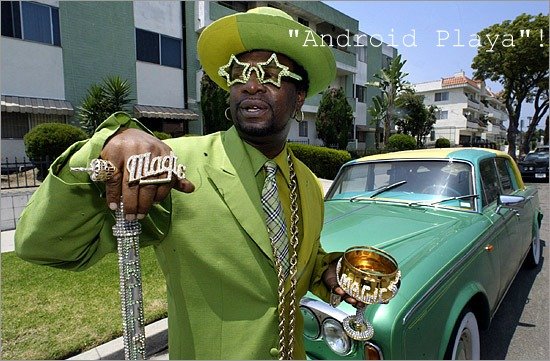 Now see, this is one of those articles that just simply makes me do 2 things: laugh....and think "WTF" at the same time. In 2005, a San Diago resident named Dante Dears was sentenced to prison for finding and running a group known as PHD, which stands for "Pimpin Hoes Daily" (I don't think I need to tell you what type of business this group does do I?). When he appeared in court, agents demanded access to his phone, as it surely contained tracking data, websites visited, text messages and so on, to which the judge promptly agreed. The problem? That little security feature known as the Android pattern lock.
Apparently, after obtaining a search warrant for the phone on Febuary 13th, they took the phone to an FBI computer forensics lab in Southern California to have a look at its contents. Once it was there, the technicians apparently "attempted to gain access to the contents of the memory of the cellular telephone in question, but were unable to do so," as reported by the FBI. The culprit was apparently Android's pattern unlock, which is funny as it's never been known for being the BEST security option.
Technicians attempted multiple times to enter the pattern, but missed so many times that it could only be unlocked using the pimps Gmail credentials. But as he refused to tell the FBI what they were, they were forced to go back to the judge to get a new warrant, and this time it was served to Google directly (I am NOT making this up).
The FBI is apparently trying to obtain the following from the phone:
The subscriber's name, address, Social Security number, account login and password
"All e-mail and personal contact list information on file for cellular telephone"
The times and duration of every webpage visited
All text messages sent and received from the phone, including photo and video messages
Any e-mail addresses or instant messenger accounts used on the phone
"Verbal and/or written instructions for overriding the 'pattern lock' installed on the" phone
All search terms, Internet history, and GPS data that Google has stored for the phone
But not so fast! Security researcher Chris Soghoian pointed out that "Given that an unlocked smartphone will continue to receive text messages and new emails (transmitted after the device was first seized), one could reasonably argue that the government should have to obtain a wiretap order in order to unlock the phone,". This is getting more and more complicated, and all because of pattern lock. (I'm actually laughing out loud right now).
Apparently the warrant was granted, but Google has yet to respond to questions as to whether they supply law enforcement with the needed info to unlock Android phones.
You know how the saying goes: "Pimpin ain't easy"...but it sure seems a hell of a lot eat easier (or harder for the FBI) to pimp if you're using Android pattern unlock.
Picture credits: aleasemichelle.typepad.com