Android Powered Smart TVs: The Future, Or Dead On Arrival?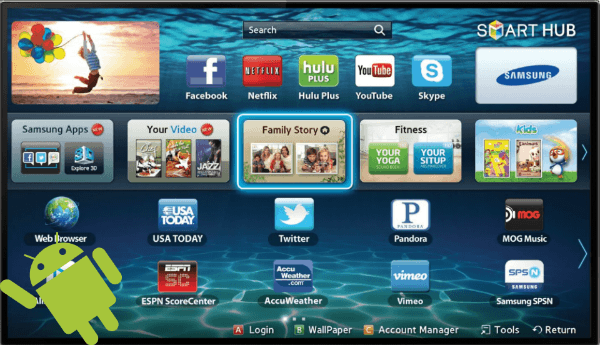 Smart TVs. They seem to be something that appeal to both TV manufacturers and consumers, but are also something that no one seems to know how to effectively bring to the masses. The concept is simple: Create a TV that integrates with Web 2.0 and the internet, allow it to provide users with easy access to media, social, and web features, and make it all accessible in a way similar to the way that smartphones give users access to such services. The idea is great, the technology is there, and more consumers own HDTVs and smartphones now than ever before. So why are Smart TVs gaining little traction with consumers? And what about the Australian surfing monkey?
(More on Australian surfing monkeys to come)
Not an easy task
To illustrate how difficult it is to create a Smart TV, or a service that allows your TV to act as one, consider this: Google, Apple, and Samsung have all tried tackling this concept, but none of them have succeeded on the scale that they wished too. Apple attempted it with Apple TV (first version in 2006, again in 2010, then the most recent version in 2012), which introduced an inexpensive hub to allow access to its services via your TV, which integrates with iPhones, iPads, and other Apple products. Sounds like a good idea right? It actually is, yet consumers, despite the box only costing 100 dollars, still aren't embracing it as they do other Apple products.
Google also went the same route with Google TV (first version in 2006). Google had lots of support from Intel, Sony, and Logitech for the Google TV, which is a pretty impressive team when you think about it. It also turns your TV into a hub by using Android and Google Chrome to create an interactive overlay for TV's with an internet connection, and could also play with specific Android apps and devices. Again, great concept, but consumers didn't embrace it, forcing Logitech to abandon the project completely (Google is apparently trying again with the Nexus Q).
Samsung took a different approach, and didn't create a box to make your TV "smart", but a TV with all the "smart" features integrated directly into it. Imagine a big version of Touchwiz (shown in the pic above) running on your TV. It looks good, it's priced well for a Samsung HDTV of that size, and it has both IOS and Android apps that work with it. This concept (in my opinion) is the future, and although consumers haven't fully embraced it yet, all of these companies did something very important with their variants of Smart TVs: they introduced the concept to consumers, and demonstrated the possiblities of what a Smart TV can accomplish.
Why the time is right
The amount of people buying smartphones is at an all time high. People are more familiar with Android and IOS, (Touchwiz especially, due to the insane amount of Galaxy S2 and S3 units sold), and use their phones and tablets on a daily basis to view media and access social sharing services. They can do it on the train in the morning, while waiting on the bus, or while waiting in line at McDonalds. It's all accessible via a user interface that they are familiar with (their phones or tablets), so why not provide access to the same features with your TV, with your mobile device acting as the magic wand to bring it all together?
Why the Smart TV is a better idea than the Smart Box
Apple TV and Google TV are both so cheap, yet most people aren't interested in spending the extra 100 bucks for the "smart box" (and especially for services with limited functionality). Odd? Not really if you think about it. Anytime you have to buy an additional accessory to make something work, people think twice about how easy it is to use. But if the feature is already integrated into the device you're buying, chances are that at some point, people will take the time to at least see/try how it works.
Samsung makes some of the best TVs in the business, and considering that you can buy the 40 inch "Smart" HDTV in the photo above for a bit less than 800 dollars, Samsung's established reputation as a great TV manufacturer will already help to push this new concept into living rooms, regardless of whether consumers were actually planning on purchasing a Smart TV or not. As Samsung already sells massive amounts of TVs, why not sneak the feature into their newer models and prep consumers for it, all while keeping the price of the TV more or less the same for consumers who planned on buying a new tele anyway?
Well, that's exactly what they are doing, as Samsung and LG have partnered with Google to begin building Android based Smart TVs. A TV that consumers would buy anyway, with a big extra (the "smart" functionality) that comes with it.
How consumers could use them
Imagine this: It's Sunday evening and you feel like watching a movie. You walk into your living room, fire up your Smart TV, and pull out your Android phone or tablet. You activate your Smart TV app and press the enhanced Voice Search button. "Open Netflix and show The Dark Knight Rises". Your movie pops up, you watch it, you love it. So much in fact, that you want to share how much you liked it. "Like this movie on Facebook". BAM. Your FB hub pops up, and shows that you "just liked" The Dark Knight Rises on Facebook. This is cool for your friends, for Netflix, and for the makers of the film, as it's free promotion across the board.
Then you feel like gaming a little. "Open Canabalt". You are now playing Canabalt on your TV while using your phone or tablet as the controller. Enough gaming. "Open ESPN.com". Your browser pops open and you catch the score of the Lakers game. Then you remember that a documentary on Australian surfing monkeys is coming on at 2AM. Damn..that's a bit too late to stay up and watch. "Record Australian surfing monkeys at 2AM, and post Tweet that it's coming on later to my followers". Done. You turn off your TV, and go to bed.
Or if all that is too much for you, you simply turn on your TV with an old fashioned remote, and watch TV as always. Forget the "smart" functions, and simply just watch TV. Afterall, the price is more or less the same for the TV (smart or standard HDTV), regardless of how you use it, and it appeals to both people who want a new Samsung TV, and to those interested specifically in a Smart TV.
2 birds, 1 stone.
Bottom line
I don't know about you guys, but that certainly sounds appealing to me if I can do it without the need of expensive additional hardware. But the coolest thing about it is that the technology to do such things has existed for a while now (the Samsung Smart TV in the picture isn't anything that new), and that everyone will be able what I just described a lot sooner than they think.
Maybe the current Smart TVs are a little ahead of their time, and there are lots of things that still need to be ironed out to prepare them for the masses. But mark my words...they are the future (and are actually already here)....
...as are Australian surfing monkeys.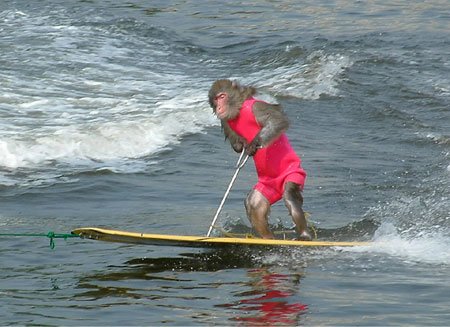 Picture credits: Amazon.com and 1.bp.blogspot.com