Do you prefer driving or action-adventure games?
Choose Driving or Action-adventure.
Oops! Seems like something went wrong. Reloading might help.

Oops! Seems like something went wrong. Reloading might help.
Let's face it, smartphones are a luxury product despite what many of us claim. I know, I know… you may work from your phone using Google's wonderful cloud serves like Google Docs or Google Calendar or your might use your phone to help keep you on top of your studies with the many reference apps or podcasts that grace the Android Market, but at the end of the day, you don't really need your smartphone in the same why you need food or shelter. 2012 is looking to become the year of Android gaming and, while the new gaming options are a great boon to the Android Community, I often ask myself "Can't we do more with our smartphones?"
Recently, I went back to my hometown of Dubuque, Iowa and much to my surprise, discovered that my sleepy village on the banks of the Mississippi had embraced the new possibilities offered by the Android ecosystem and were using a new app developed in partnership with IBM to help make Dubuque a smarter, more sustainable community.
Small Town, Big Ideas
Located in the far Eastern corner of one of the quintessential "flyover" states, Dubuque is hardly what you would think of, when thinking of cutting edge Android technologies. But larger metropolitan aries confronted with the challenges of global warming and climate change could learn a thing or two from the small river town.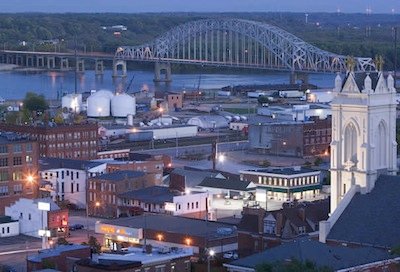 In 2006 Dubuque Mayor Roy D. Buol signed on to the U.S. Conference of Mayors Climate Action Agreement in Support of the Kyoto Protocol to Reduce GlobalWarming… Long name, I know! But the idea behind the drown out title is simple. Dubuque wanted to become a sustainable city or a city designed to minimize the environmental impact caused by the currently inhabitants with an eye toward leaving future generations a sustainable living standard. A lofty goal but one the city is meeting year after year. One of their latest projects is the Smarter Travel Pilot Study, which embraces smartphone phone technology to help streamline public transportation, while focusing on reducing the cities carbon footprint and encouraging citizens to make smarter travel choices.
The Smarter Travel Program is the brain child of IBM Research and uses an app developed by IBM to anonymously collect data from volunteers. The Transit Planner Smartphone Application maps how participants interact with the public and private transportation options in Dubuque and sends all collected data to a secure server hosted by IBM. During the course of the one year study, public authorities will use the anonymous data to better understand how Dubuquers interact with their urban space. The ultimate goal of the mapping program is to create a better, more efficient public transportation network that meets the goals of local citizens and does so in a more energy efficient way.
Smarter Travel With Smarter Phones
Working with the local government, IBM developed the Transit Planner application in Android, and Blackberry flavors, with an iPhone version right around the corner. Once installed, the app runs in the background and collects anonymous movement data to help paint a picture of how people interact with the city. Of course, IBM has taken pains to address privacy concerns and all collected data is striped of identifying characteristics and participation in the study is strictly voluntary. While the app my not be much to look at, it helps users better understand their travel choices and even gives users a way to measure the environmental impact their travel choices have.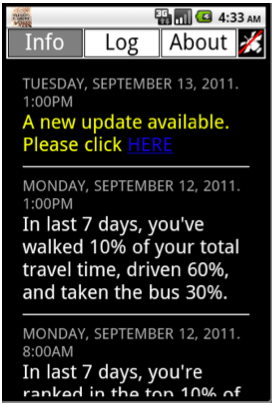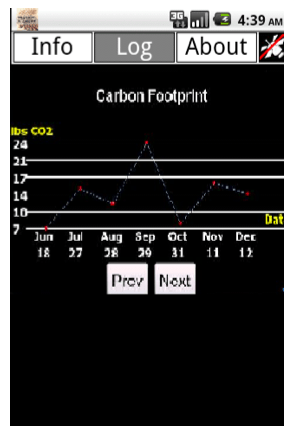 Of course, the study is still in its infancy but IBM and the City of Dubuque already have high expectations for their new pilot project. Using the Transit Planner app, Dubuque aims to:
reduce travel times,
increase fuel efficiency,
increase traffic safety,
reduce vehicle miles traveled (VMT), and
reduce carbon monoxide emissions.
First Dubuque And Then… The World!
Of course, the Transit Planner app won't revolutionize how we interact with our urban spaces overnight, but, if successful it might just help the U.S. develop the public transportation network that the 21st century needs. Once the study concludes next fall, IBM may roll out the app to other, larger urban areas as part of its City-in-Motion project. Meaning Android might just play a large roll in helping shape the U.S.A.'s green future. And is there really a more fitting community then the Android community to help drive the green revolution?
For more information about Dubuque's Smarter Travel Project or IBM's Cities-in-Motion project check out the following links: