Android Swallows More Than Half of China's Smartphone Market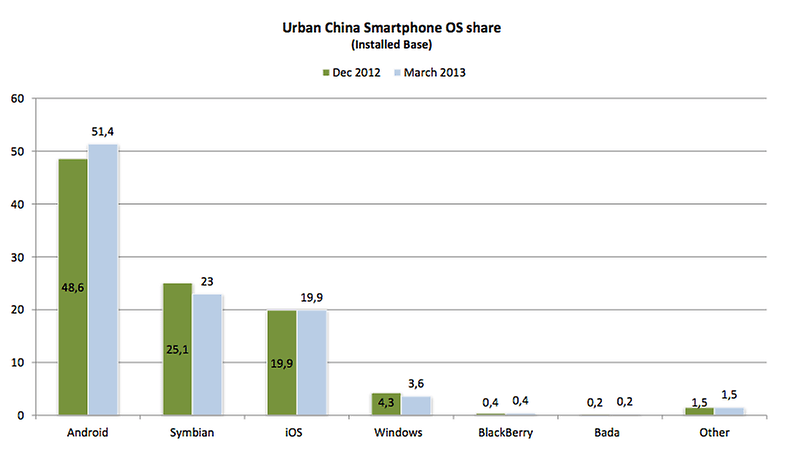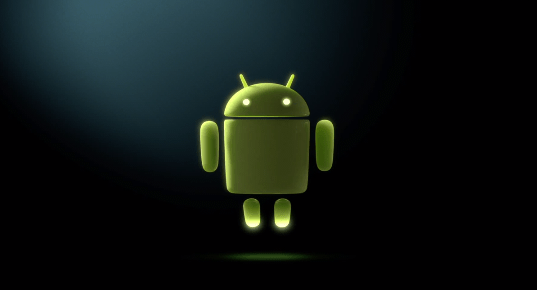 Android is now taking the lead in the largest (and arguably most important) smartphone market in the world: China. According to the research firm Kantar Worldpanel ComTech, Android now accounts for 51.4% of all smartphone sales among China's 1.34 billion population.
Nokia's Symbian took the #2 spot with 23% of all mobile OS's in China, down 2% from the last quarter. Apple's iOS, meanwhile, came in third with a 19.9% share.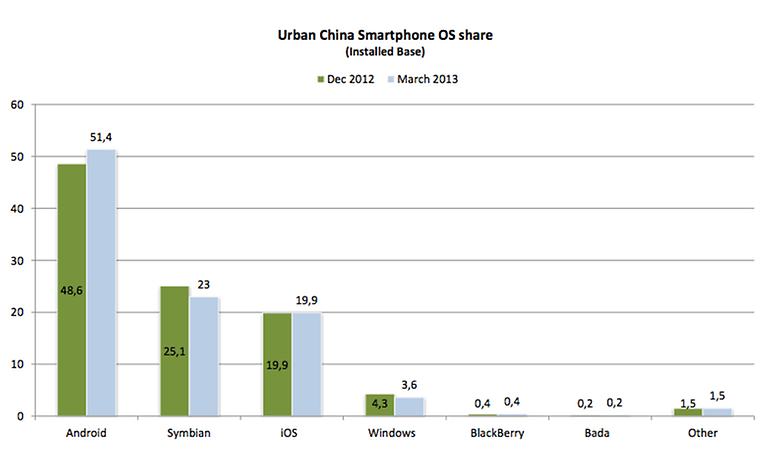 Now I know what you're thinking: since when does Symbian pass for a smartphone OS? It's a mystery to me why Kantar grouped Symbian with the rest, but the results (I think) are still noteworthy as this is the first time Android has ever crossed above the 50% threshold in terms of overall phone sales.
Among all Android manufacturers, Samsung (predictably) has the biggest slice of the pie in China, with a 15.2% share among all Chinese smartphone owners. Kantar expects that number to grow:
"Samsung has recently launched the Galaxy S4, selling over 10 million units globally in less than one month," Craig Yu, consumer insight director at Kantar Worldpanel ComTech, said in a statement. "We predict the launch of Galaxy S4 Mini in the not too distant future will greatly increase its product reach in urban China."
Demand for smartphones has increased dramatically in China as they become much more affordable. "We expect to see accelerated smartphone adoption in China in the coming months," Yu said.