Acer Introduces A New 10 inch Android Tablet For $329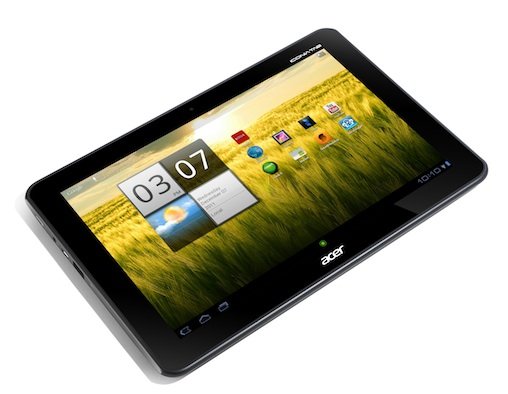 (picture from Computerworld)
Things are certainly heating up in the battle to attract consumers to Android tablets. Samsung, Motorola, HTC and Sony have all presented great offerings, but it seems that Amazons approach with the Kindle Fire has attracted the most attention due to its very affordable price. It seems that Acer has now taken of page of Amazons book, and today they introduced their new 10 inch Iconia A200 Android tablet for the suprisingly low price of $329.
The device will be available in an 8GB and 16GB ($349) models, and will ship with Android Honeycomb 3.2. Acer however announced that the Ice Cream Sandwich update would come to the device in Febuary.
The Iconia A200 displays the same specs as most current Honeycomb Tablets, and boasts a Nvidia Tegra 2, 1GHz dual core processor, a 1280 x 800 LCD screen, Bluetooth 2.1 and Wi-Fi. Additionally, it's also packing a full sized USB port, a MicroUSB port, and a MicroSD memory card slot. There's no rear facing camera, but a front facing 2mp camera is present to allow for video chats. It does ship with with its Acer Ring tool, which displays specific apps when you tap on a home screen icon, but for the most part Acer has left Android pretty untouched.
While many consumers will be anxiously awaiting the first batch of quad core tablets, the price of this device could make it really attractive for some consumers. After all, $329 for a tablet that (will) runs the newest version of Android is a much lower price than many other current offerings from competitors.
Hopefully, other producers of Android tablets will follow suit this year and present us with some high quality Android Tablets priced competitvely enough to compete with Amazons Kindle and Apples iPad.