Motorola Apologizes To Outraged Customers For Lying About Updates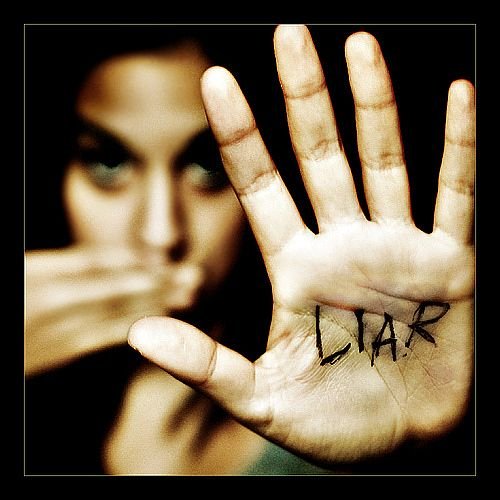 Promises, promises. Do you guys remember the Android Upgrade Alliance? It was basically an agreement that Google and OEMs made with consumers that guaranteed system updates to all of its phones for 18 months following their release. Well apparently, Google's newly acquired OEM (Motorola) has outraged many of their customers when they announced via their forums that they have abandoned their Android update promise for the Photon 4G and the Atrix 4G. Not only that, but they have also admitted that they have indeed left many of their loyal customers in the dark.
Doran Else is one of those people. He purchased his Photon 4G last October due to its speedy dual core processor and because of the newly formed relationship between Google and Motorola. He now, understandably, feels as if Motos promise was simply to lure customers to their products. He recently stated the following in an email:
"Just seems they were happy to join the alliance when it helped them sell handsets. Now that it's time to do the work, they're all dropping devices. This latest announcement from Moto is just ridiculous."
By abandoning their commitment, it basically means that thousands of Moto customers will be forced to use Android Gingerbread (2.3) on their devices. As Motorola originally made a commitment to Photon, Electrify, and Atrix owners to update their devices to Android Ice Cream Sandwich (4.0), many owners now feel cheated and lied to.
While this isn't the first time an OEM hasn't made good on its promise, this case stands out from the others. Motorola made the promise of upgrading devices for 18 months, and considering that Google owns Motorola, it really makes me wonder just what prevented these updates from happening. When you combine those two points with the fact that Motorola seems to have abandoned a big portion of its old devices, it's not too difficult to see why this has upset so many of their customers.
Although they might be a minority, many owners of Motorola devices actually purchased these phones due to the fact that they met the upgrade specifications. Jacob Depenbusch was one of those customers, and stated:
"Had they not promised an update, the phone would've been out of the question. And then they reneged on the promise. They benefited financially from lying to us, and these phones certainly aren't cheap. This is an appalling business practice."
He has a point. In fact, multiple Motorola owners have now filed complaints with the Better Business Bureau due to a failure to provide a motorola android update.
Danny Brewer, an Atrix owner, said that "the fact they are offering $100 to swap to another Motorola phone (which is a deal Moto is currently running) is laughable. I will not be touching it or another Motorola phone with a barge pole. I don't want a new phone. I want my current phone, that I have to keep for another year, as that's how long my contract is for". He went on to say that "there are very few companies that I have felt I needed to boycott, but Motorola has just earned that honor".
This is a pretty craptastic situation for Google and Motorola, as a big percentage of these complaints came from customers that really loved their devices. They simply wanted to be able to keep using them. This could have easily been avoided had the promise of a motorola android update been rolled out.
While most consumers probably won't care about the Android update fiasco, it's no excuse for the company that Google owns to back out of commitments. Motorola has also admitted to this, and were pretty open about stating that they can understand consumer reaction to this: "I think some of them have gotten a raw deal. We understand strongly and apologize for it" (Punit Soni - Software Product Management for Motorola).
According to Motorola, they spent a lot of time debating this action, but added that they don't believe any further devices will be suddenly added to the list of phones that won't receive the update. This move was apparently needed, as Punit went on to say that "if we didn't make the hard call here, we would be in trouble going forward".
As you can see from some of these comments from users on Twitter (courtesy of Cnet), this is exactly the type of press that Motorola doesn't need: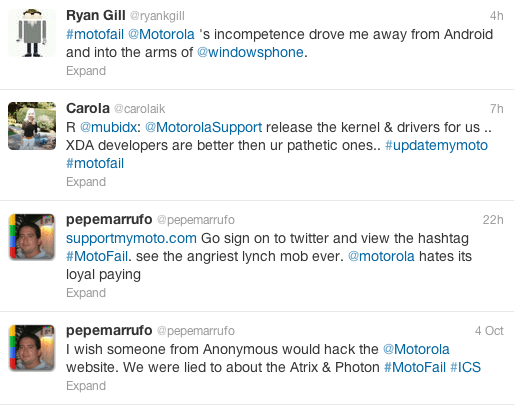 What do you guys think about this? Were you expecting Google's acquisition of Motorola to get off to such a bumpy start? Would YOU be upset of you owned one of these devices? How would you react?
I don't know about you guys, but my mother always tells me not to make promises I can't keep...
Let me know what you think in the comments below!
Picture credits: Cnet and unplugged.rcrwireless.com