Android Captures 61% Of US Smartphone Sales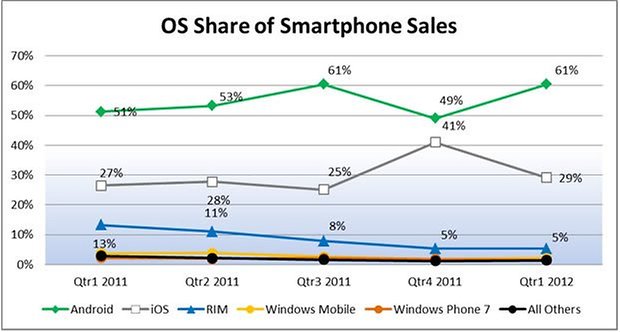 Android is off to a pretty start going into 2012, and have managed to capture 61% of smartphone sales in the United States. That's pretty impressive considering it's a 12% jump over the 49% they had in the last quarter of 2011. NPD Group delivered the recent statistics, and it seems that this time Android gains came very much at the expense of of the iPhone. One thing can certainly be seen in these numbers: The Android vs iPhone battle is still very much in full swing.
IOS actually lost a pretty hefty chunk of ground while retaining 29% marketshare, which is significantly down from the 41 percent they had in Q4 2011. Their biggest surge came during the holidays due to high demand for the iPhone 4S, but Android was able to reclaim that share after the new year kicked in, bringing it back to the same share it had during the third quarter of 2011.
But that doesn't mean it's all bad for Apple, as even though they have lost market share last quarter, the have added to their base by adding Sprint to their distribution channels.
As a whole, smartphones didn't gain much traction as far as percentages of sales go, but they still grabbed 66% of all handset sales last quarter. From the 10 top selling models from Q1, half came from Apple, 3 came from Samsung, one came from HTC, and one from Motorola.
NPD goes on to report that 2 out of 3 people aged 25 to 34 own a smartphone, and that 50.9% are females, and 50.1% are male. Asian Americans lead when it comes to owning a smartphone, with 67.3% using a smartphone as their daily driver. 3 in 5 Hispanic mobile users have smartphones, and a majority of African Americans also own a smartphone as well.
There's still lots of room to expand, and lets hope that Android plays a big role in that expansion in 2012!
Picture credits: CNet