 Eric Schmidt Takes The Stand In Android Vs Oracle Trial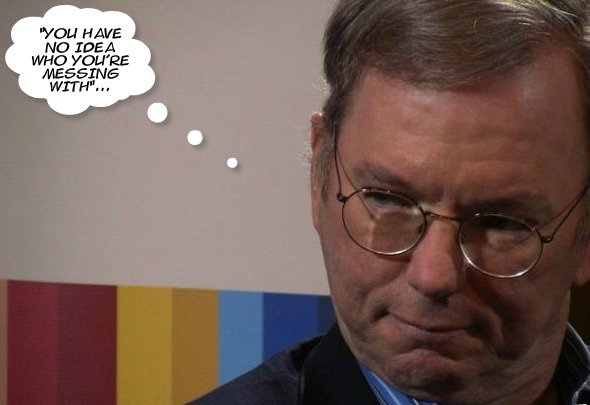 The trial between Google and Oracle is well under way, and so far it's been a pretty aggressive technology trial to say the least. Google CEO Larry Page and Android creator Andy Rubin have both recently taken the stage in court to defend Android, and while they made some valid points in defense of Android, they both appeared nervous and somewhat unprepared in many aspects. But yesterday another Google employee took the stage in the Android Vs Oracle saga, and not only did he defend Android, he STRONGLY defended it. I had the pleasure of meeting this guy last year when he spoke at a universtiy in Berlin, and one thing I can tell you is this: Eric Schmidt can TALK, which is exactly what he did in court on Tuesday.
For those not familiar with what the trail is about, in a nutshell it's Oracle saying that Google illegally used java. Google's stance is that they didn't in any way illegally use it. When asked if Google illegally lifted parts of Java's platform, Eric had plenty to say.
"My understanding was what we were doing was permissible," Schmidt said. "From the sum of my experiences and interactions, I was very sure what we were doing was legally correct." Eric actually took over as Google's CEO in 2005 after Java had been released. It was then that Android began development after Google purchased the startup company "Android".
How it all started
Schmidt stated that he, Larry Page, and Sergey Brin (Google co-founders) had been looking for ways to develop a mobile platform. He stated that " they only had a vague idea of what they would do with the platform, but they knew that they needed to become competitive in the mobile market quickly. "At the time, we were quite concerned with Microsoft's products," Schmidt said. "It's hard to relate to that now. This is before the iPhone revolution occurred."
Google then decided that the best way to run applications on top of the OS would be with Java, and Google engineer Tim Lindholm stated in an email from 2012 that alternatives to Java "all suck". In another email that Oracle confirmed, Andy Rubin (founder of Android) told other Google employees that they would either need to partner with Sun, or buy a Java license that would allow them to use it atop of Android.
Google to Sun: "We don't need a license"
Eric Schmidt then attacked, stating that Google didn't need a license to create it's own version of Java. Oracle then said that Google was the only company that was using API's from Java without a license, and Schmidt retaliated that Google planned originally on using Java from the very beginning when developing Android, but that the way Oracle counsel David Boies was using the vocabulary describing Java was a bit off.
Schmidt replied (with a hint of arrogance) ""An interface is a specification. A name. There's a collection of those names that forms the standard that Java uses. We, Google, implemented those interfaces in our own way." Oracle then asked "Just to be clear, you copied the 37 Sun Java API specifications?", to which Schmidt replied "We used the interface names, which is how one does this" (zing!)", and then did our own implementation of those services,". When asked about further technical details, Schmidt replied "We're talking over 20 years. Things change".
Schmidt then recalled his dicussions with former Sun CEO Scott McNealy that concerned partnering with Android. McNeally wrote in an email that "I'm worried about how we're going to replace the revenue. This is likey going to submarine." Schmidt then responded that this was a typcial Sun response (LOL):
"I interpreted this as, 'We need money from you,'" he said. "[McNealy] understood the value of a billion users." The negotiations ended up breaking when Google realized that Sun wouldn't allow Google to touch Java's source code. According to Schmidt, this was the main issue,not the $30 to $50 million Sun requested for the partnership. "We would have paid that," he said. (That makes sense. I mean, what's 50 million dollars to Google?).
Google: Sun knew what we were doing, and encouraged it
After that, it was then that Google started a "clean room implemntation" of Java, which is basically Google's engineers working from scratch to build their own version of Java. Schmidt said that in that version,"It involved a team that didn't use Sun's intellectual property, so I was told," Schmidt said. "[Sun] was extremely aware of our implementation", and went on to comment that both Scott McNeely and Jonathan Schwartz (who took over for Scott as CEO of Sun) was aware that Google was using Java, had no objections to it, and never stated that Google would need to purchase a license. Google's lead counel backed up that statement by showing a blog post from Schwartz that openly encouraged Google's work on Android.
To sum it all up, it sounds like Schmidt pretty much said "Umm...NO. You knew what we were doing, we developed our own implementation of the language, and now you just want some money".
Oracle then rested it's case on the copyright phase of the trial. The patent infringement accursations and damages (if any are required) are still to come.
Picture credits: Wired (edited by myself)