AndroidPIT's Epic Giveaway: 5 Phones & 5 Tablets Up For Grabs!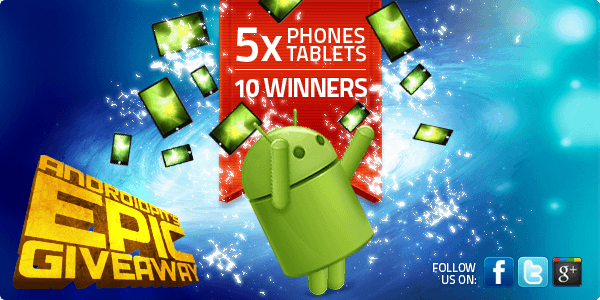 We're having a giveaway!
But this isn't just any old giveaway. We want to make sure this one goes down in history as the greatest Android giveaway of all time. Being the awesome and loving group of people that we are, we've decided to give away 10 of the best Android smartphones and tablets on the market. That's right. We've got 5 top-notch smartphones and 5 mouthwatering tablets up for grabs among our Facebook fans, Twitter followers and Google+ friends!
What we're giving away
We've got the best Android phones on the market to give you:
1 Samsung Galaxy Nexus
1 Samsung S2 Galaxy
1 Motorola RAZR
1 HTC Sensation XE
1 Samsung Galaxy Note

And the best Android tablets in the world:
1 ASUS EeePad Transformer Prime

1 Acer Iconia A200

1 Motorola XOOM Tablet

1 Samsung Galaxy Tab 10.1

1 Sony S
How does it work?
It couldn't be more simple. If you haven't done so already, like us on Facebook, follow us on Twitter, add us on Google+ or do all of the above to increase your chances to win ones of these coveted devices:
That's it?
Yup. It's basic math, people. 5 phones, 5 tablets, 10 winners!
As the only truly global Android website, we're opening up the playing field to anyone in the world! Remember, we'll be wrapping things up on February 6th when the winners will be announced!
So get in on the action and participate in AndroidPIT's Epic Giveaway today!
Participation Rules:
1. Participation rules and organiser information
a. The following rules apply to the subsequently described contest.
b. The contest organiser is Fonpit AG, Greifswalderstr. 207, 10405 Berlin
2. Participation rules:
a. The contest is open to all persons, who are older than 16. Employees of the Fonpit AG and their friends/family members are not eligible to participate.
b. There are no fees associated with participation. Each participant may only enter once (entry with multiple accounts is not possible)
c. If the participate is not eligible to participate in the contest, violated the participation rules, made use of technical or other illegal aids or in any way attempted to manipulate the outcome of the contest in an illegal fashion or under conditions that violated the participation rules, the organiser reserves the right to bar contestants from participation (also retroactively), declare all winnings invalid and reclaim all prizes or select an alternate winner
3. How to participate:
a. Participation in the giveaway is possible between the dates 1/23/2012 and 2/06/2012.
b. The prerequisite for participation is registration in one Fonpit-AG's "Social-Community" channels .
4. Prizes and selection process
a. After the completion of the competition on 2/06/2012, winners will be drawn randomly. The winners will be notified via a private message to their account in their respective online community, that was used to enter the Fonpit AG's contest. Contestants, who did not receive a prize will not be notified.
b. Cash payments, adjustments or prize replacements are not possible and the prize is not transferable.
c. The winners will receive a new smartphone or tablet from Samsung, Motorola, HTC; Acer or Sony by mail, after they have notified Fonpit of their postal address.
5. Privacy information and additional information
a.For more information regarding our privacy rules, please see the following document: https://www.androidpit.de/de/android/privacy
b. Legal recourse is not applicable to the giveaway. If one or more stipulation of the preceding document be invalid or become invalid, it in no way reflects the overall applicability of the document. The legal contract is composed under the German legal tradition and does not reflect guidelines of international law. Mandatory consumer protection laws of EU members states are unaffected.