 AndroidPIT's App Giveaway: Win Your Favorite Apps!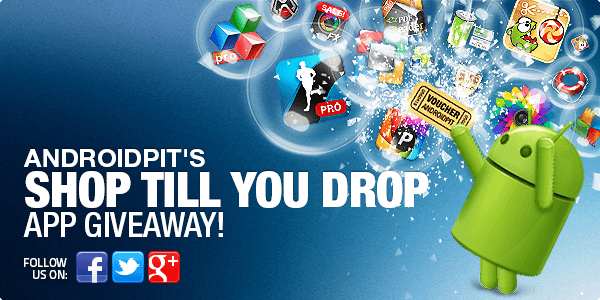 Over at AndroidPIT we're proud to announce the start of our Shop Till Your Drop AndroidPIT App Giveaway! You read that right, folks. We're giving away a total of 9 vouchers that you can use to stock up on your favorite apps from the AndroidPIT App Center. So what are you waiting for? A world of wonderful apps awaits!
What You Can Win
To celebrate the summer, we've decided to give back to our wonderful community by giving away 9 AndroidPIT vouchers to the App Center. You can use them to download the apps you've always been craving to have. Here are the prizes:
1st prize: $50 voucher
2nd prize: $30 voucher
3rd prize: $20 voucher
6 additional $10 vouchers!
Our lucky winners will be able to shop till they drop with these generous vouchers. Just imagine how many apps you could add to your collection by taking part in this contest!
How Does It Work?
The rules our simple. Anyone wishing to participate will need to answer the following question:
If you could buy any app from the AndroidPIT App Center, what would it be?
You would then just need to answer in the following format:
If I could, I would buy [name of app] from AndroidPIT [link to the app in our App Center, not Google Play]. Then state your reason why in a few words.
Then post the answer in your Twitter feed using the hashtag #appgiveaway, on your Facebook timeline or on your Google+ account mentioning +androidpit in your post. We will announce the 9 lucky giveaway winners on Tuesday, July 10th 2012. Each winner will receive a voucher that can be used immediately in the AndroidPIT App Center to purchase apps.
Participation Rules:
Each participant may only enter once (but you can post on all your social networks)
Double or fake profiles will be disqualified.
You need to be registered with the AndroidPIT community to be eligibile to participate(if you're not a member, you can register here).
Only links to the AndroidPIT App Center are valid. Links to other stores or markets shall not be considered.
You must have a valid profile Twitter, Facebook or Google+ to particiapte.
Now think about the number of apps you could buy with 50 dollars! Are you a gamer? Then feel free to go crazy on games like Apparatus, Grave Defense HD, or AirAttack HD. More of a productivity app kind of person? Why not invest your voucher into downloading Office Suite Pro 6 or Smart Tools! Feel like your phone needs a new look? Spend your voucher on cool new widgets and launchers such as Beautiful Widgets or ADWLauncher EX!