AndroidPIT's WTF App Of The Week: Facebook/Facebook For Android Updated. Still A Big Piece Of **it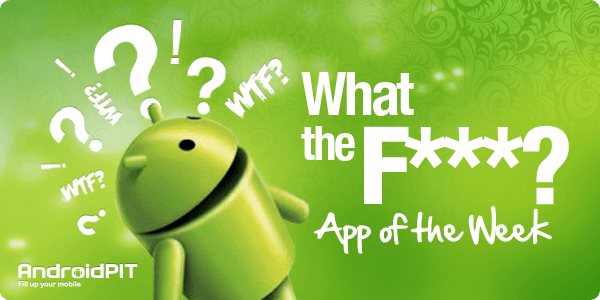 AndroidPIT's WTF App of the Week is normally about useless, ridiculously funny/annoying/meaningless apps that make our jaws drop. But today we have a WTF app like no other. An app straight from one of the biggest movers and shakers in the world that continues to spell out F.A.I.L more and more as the months go by. A WTF app that's still so terrible for Android after years of existence that we can honestly only say "WTF??" after everytime it doesn't work properly. No my dear friends. This time it's not a farting or pooping app that makes funny noises. Our WTF app for this week is one you all know and use: Facebook. It's actually so "WTF" that Facebook CEO Mark Zuckerberg is literally having to force his staff to use it.
I can get by using the Facebook app for Android, and yes, I do use it on a daily basis. But is it a good app? HELL TO THE NO. Constantly crashing, comments just don't show up sometimes, some posts I write just decide to not how up, and it's literally frustrated me so much a few times that I was THIS CLOSE to throwing my phone in front of a train and urinating on the remains (ok..maybe it didn't make me THAT mad, but it still pisses me off). But I'm not going to focus on my personal opinions about the app in this article, as everyone is entitled to their opinion. Instead, let's focus on what Facebook employees think of their own app. You're gonna love this....
In the minds of Facebook employees, the app is so bad and so underneath the IOS app, that Facebook is literally ORDERING employees to give up their iPhones for Android devices in the hopes that they take fixing it more seriously. The report comes from Business Insider, who managed to speak with ex Facebook employees who spilled the beans on what goes on behind closed doors. According to them, Facebook's own management team feels the only way to address and fix the ongoing issues with the Android app is by forcing employees to use it on a daily basis. Sounds harsh, but perhaps this "dogfooding" strategy could actually work.
The latest Facebook update for IOS was a really big one, and after playing around with it on an iPhone 4 here in the office, I can see how much smoother it runs. It has completely did away with HTML5, which was causing issues by reloading new data every time you opened it. It's literally twice as fast/smooth as it was before. It also features instant photo updates, and added new options at the top of the News Feed to allow users to take a picture quickly (they were behind Android in terms of features up until now). Oh and Mark Zuckerberg...how come iPad users have an optimized app for the iPad, but Android tablet owners still have this ugly piece of **it?: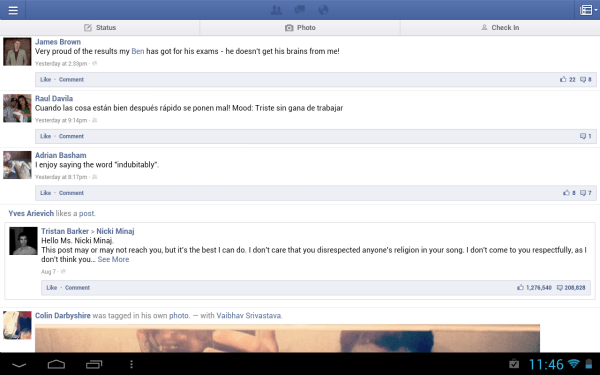 Would it really be that hard to optimize it for tablets as Google did here with Google+?: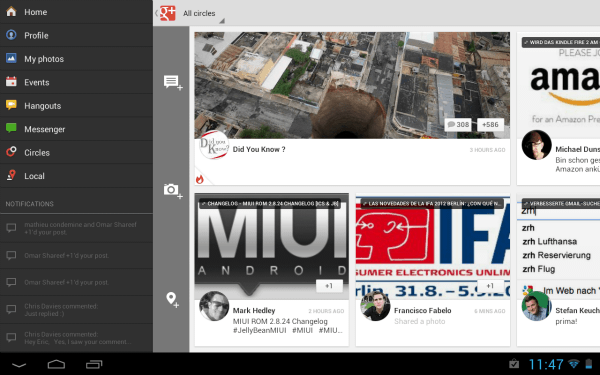 While some of these features may have already existed on Android (I always felt the Android app, although crappy, was still superior to the IOS app, until now that is), my point is exactly what my colleague Pedro just stated: "The reason Facebook has a crappy Android app...is because they can". That's what irritates people the most. Facebook is one of (if not THE) the most downloaded apps for Android and IOS. With a company so big, so rich, so powerful, and so bitchy about not making money with mobile, it's a pretty big slap in the face to a big percentage of the almost 1 billion FB users that access FB from their mobile device every day.
There are definitely worse apps than FB for Android, and I'm not saying it's unusable. But for the love of God...if you have to FORCE your own employees to use it by ordering them to ditch their iPhones for Android phones, what does that tell you about the app? This isn't about Android VS IOS Mark. It's about giving 1 billion users an app that doesn't suck. If you're smart enough to create/code Facebook, you're probably smart enough to improve the app...or am I seeing this wrong?
Facebook: The most needed crappy app from a company that easily has the resources to fix it...
...and AndroidPIT's jaw dropping WTF App of the Week.