App Review: CoinKeeper Offers Super Speedy Purchase Tracking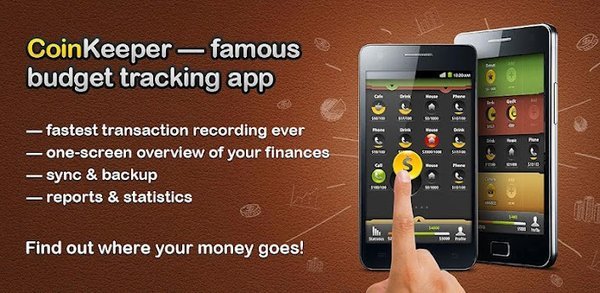 If you're anything like me, you probably find it hard to stick to a budget. After all, when you're on the go, it's hard to whip out a notepad and jot down your purchases. It looks a bit silly and is just one more cumbersome thing to remember to do. While the new Android app CoinKeeper also requires a bit of daily finangling, it's an easy way to quickly track expenses straight from your phone.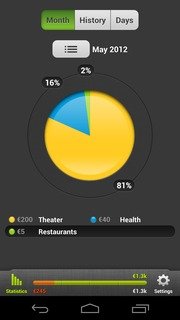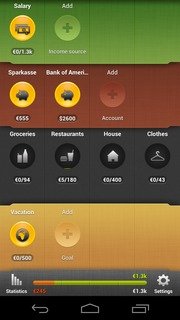 CoinKeeper has a simple and modest interface that belies its advanced functions. To use the app, first you enter in information about your monthly salary. Then the app offers to create a budget for you based on that salary. It was at that very moment I realized, "woah, I spend WAY too much on food." Yup, CoinKeeper has already opened my eyes to the fact that there's a part of my budget that I'm having a very hard time sticking to, since their recommended food budget was WAY below how much I tend to spend (yikes!)
CoinKeeper also created a recommended budgets for clothing, transportation, rent, clothes and entertainment for me, most of which seemed quite reasonable. Today, since I had bought a croissant, I was able to easily deduct that transaction by dragging my bank account icon to my food icon and entering in my purchase amount (€.90). You can then watch as the icons for all of your expenses begin to fill with colors. Green means you're in the clear, but once you start reaching red you know that you're on the edge of over-spending in that particular category.
The app also allows you to plan scheduled transactions, such as when you receive a paycheck. It then creates graphics – like a multi-colored pie chart – so you can see where your money has been going over the past month. You can even set goals – like a trip to Paris – and begin saving for that big splurge.
Overall, this is by far the best budgeting app I've ever used. What I'm most looking forward to is realizing where my budget has careened off its desired path, and already I'm realizing there are certain areas of spending where I'm being just a tad over-indulgent with myself. It's a fast and easy app to use (and much better looking than its competitors) but, that said, it's a bit costly. After a 2 week trial, Coinkeeper will set you back $10. But if you're the kind of person who needs a bit of financial assistance, I'd say this particular purchase is well worth it.